Artaxerxes' Ignorance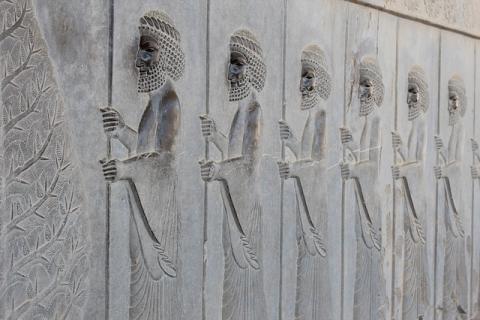 Below are the words of King Artaxerxes III (ruled 359-338 BC) who rebuilt the staircase on which the inscription was carved. The staircase was a later alteration to the Palace of Darius. This nineteenth-century plaster cast taken from sculptures on the Palace of Darius at Persepolis is shown in the British Museum, and reads thus:
A great god is Ahura Mazda who created this earth, who created yonder sky, who created man, who created happiness for man, who created me, Artaxerxes…This stone staircase was built by me in my time. Saith Artaxerxes the King: Me may Ahura Mazda and the god Mithras protect and this country, and what was built by me.
It is tempting to think that he was addressing the real God of heaven, but through a foreign name. God certainly judges people on the information they have available to them. Yet I think this great king might have known the great God of heaven had he made enquiries enough, for he was likely the grandson of the Artaxerxes of Nehemiah and Ezra. He would still have been familiar with the God of his mysterious, Jewish subjects, who refused to worship any other god but their own. Indeed, one of them was in charge of the magi when great Cyrus conquered Babylon. 
Pagan piety is often real, sometimes sincere and occasionally forgivable. But what of those who had access to the truth but failed to pursue it?