Behind the Council House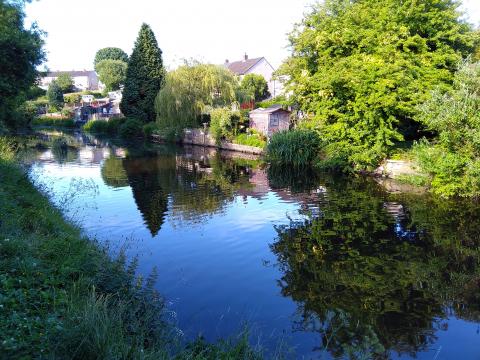 Council Houses are a British expression for those inter-war and post-war dwellings which local authorities constructed for those unable to buy their own homes. A huge improvement on the Victorian slums with which too many tenants were familiar, as well as rapacious landlords efficient at claiming rents but less forward making repairs, the council estate offered spacious gardens, solid walls and landscaped public spaces. Their planners' and builders' optimistic visions were not entirely realised on account of high crime rates and antisocial behaviour. Furthermore, such structures were often grey and austere, lacking even the token architectural flourish one might find on other types of home.
On Barnoldswick's Coates estate, the houses look like those of a typical council housing development. Some were sold off under Mrs Thatcher, and have been repainted and extended, while many others conform to the dull stereotype. Nearby is the Leeds Liverpool Canal. Like the Coates Estate, this too was once grim and utilitarian, but is now a leafy haven for swans and coots. Those homes on Avon Drive and Conway Crescent back right onto the canal, with decking, weeping willows and modest jetties nestling by the water. From their fronts, they look like any council or ex-council house; from their rears they would not be out of place at salubrious Henley-on-Thames. Such properties are certainly outside of my purchasing power.
The Christian is as old and wrinkled as the next man, but his spirit is more beautiful and holy than an angel's bosom. His heart is become a royal palace for it is the home of a royal Prince who deigns to dwell there. What was once grey and vulgar is now an increasingly colourful garden of grace, hope and good works. 
Behold, I stand at the door and knock. If anyone hears My voice and opens the door, I will come in to him and dine with him, and he with Me. Revelation 3:20