Blessed William Spenser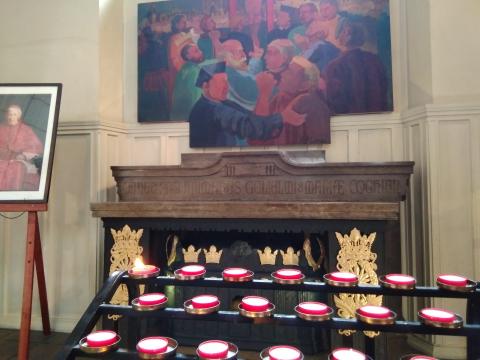 I was recently sniffing around St Anne's Roman Catholic Cathedral in Leeds. Around its nave are the traditional side chapels where one may address particular saints or pray for the dead. One of them had an altar to the Yorkshire martyrs, those Roman Catholic men and women who lost their lives for their faith. Regular readers will know that I reject Romish doctrines and practices, but recognise Catholics' rights to worship how they wish. Policies of religious freedom are the best way of guaranteeing freedom for gospel truth. I was curious to learn that one such martyr hailed from Gisburn, one of the two villages within our chapel's vicinity and in whose parish we are found.
The man in question was William Spenser (born 1555), who studied at Trinity College, Oxford, around 1570. He formally converted in 1582 and was ordained priest at Rheims in France the following year by its Cardinal Archbishop, after which he returned home as part of Rome's English Mission. We know he came back to Gisburn to attend to some family dispute. I have looked through the registers on the parish church, and, although William himself will have been baptised before such records were taken, that surname can be found. Spensers are recorded living at Great Dudland between Gisburn and Sawley, and this is where I think he was raised.
He volunteered to be imprisoned at York Castle where he could minister to the Catholic prisoners there, but was prosecuted for being a priest in 1589, for which he was hanged, drawn and quartered, along with his servant or benefactor, Robert Hardesty. A Catholic writer in 1826 wrote of Spenser:
He received the sentence of death with an undaunted courage, and suffered with great constancy
He was venerated on 10 November 1986 by Pope John Paul II and beatified on 22 November 1987. If miracles can be proven, the Catholic Church will doubtless go the whole way and canonise him, officially rendering him a saint, to whom prayers and devotion may be addressed.
What can I, a staunch protestant, make of this? I can certainly admire his courage and sincerity; no hypocrites are martyred for anything. I also think that much of the Anglicanism of his day was lacklustre and lethargic; it rejected puritan vigour and Romish machination with equal cruelty. If he died for the Pope's right to govern all churches, for the wafer's right to be worshipped upon an altar, for Mary's right to receive adulation- he surely died in vain. I thank God his mission failed and that Rome never returned to these shores, while regretting the manner and imposition of the poor man's death. It is perfectly possible to suffer and die for an unworthy and mistaken cause. Few of us will be asked to die for truth, but all of us are asked to live for it.