Bolton by Bowland: The Wiley Priest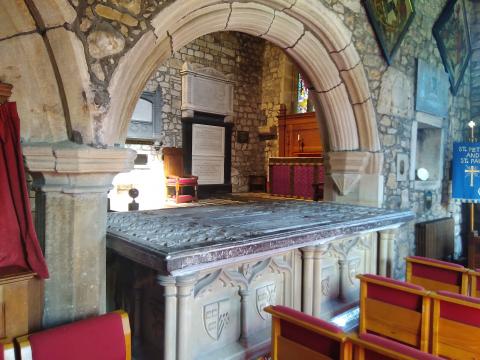 On the great Pudsay Family slab-tomb at Bolton-by-Bowland parish church are all the sons and daughters of old Sir Ralph. The womenfolk look suitably demure and the menfolk appropriately grimacing in their armour. One exception is the cassocked William, the son of old Sir William, who was the priest of the church when the tomb was built. Sally Badham has researched this Parson Pudsay. I must say he strikes me as someone of questionable morals. As well as holding two livings (ie he was rector at two parishes, enjoying their tithes, while employing a lower paid vicar to minister at one or both), he was outlawed in June 1466. He owed one George Neville 8 ½ marks and seemed consistently reluctant to pay, often failing to attend court when proceedings were issued against him.
I approximated his 8.5 marks' worth of debt to £6 (a mark was 13 shillings after 1066, and there was twenty shillings to the pound). Using the Bank of England's inflation calculator from the year 1466, I arrived at a modern-day debt of £7,749.20. It is a significant sum, but in a pre-industrial age, money was harder come by, so we might consider it an even higher sum in today's purchasing terms.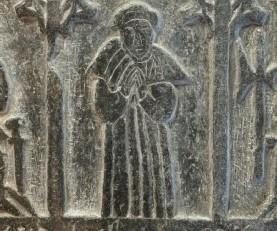 He was duly outlawed for 16 years, at the end of which he surrendered and was committed to the infamous Fleet Prison. The case reached the King himself, and though the outcome is not recorded, we know he was back at Bolton's parsonage at the start of the new century. He had already received the King's pardon back in 1472 for some other unspecified offence when he was described as 'William Puddyssay, parson of the parish of Crofte, Co. York, alias Willliam Pudsey, parson of the parish church of Bolton in Craven, Co. York'. The clerk's use of the word 'alias' is intriguing.
Back to his seven grand debt. George Neville happened to be Archbishop of York, Chancellor of Oxford and brother to the 'Kingmaker' Earl of Warwick. Oh, and he was also Chancellor of England, a role that would today be termed Prime Minister. This is not the kind of man to owe money and evade repayment. We don't know Pudsay's motives, but he does seem to be a slippery man of dubious character. Of all the little Pudsay folk depicted on that tomb, the only clerk in holy orders seems to have been an untrustworthy fellow. A clerical collar, a cassock, a bishop's mitre or a papal tiara confer no goodness or piety on their wearers. Clerical dress has concealed many a charlatan, priestly robes a predator, bishop's mitre a greedy oaf. The gospel urges us to look up to Christ Himself, and not to those who claim to minister in His name- who will each be judged according to their works.