Brabin's Shop
Last week, I enjoyed a cup of tea and slice of cake in what claims to be Britain's oldest, continually trading shop. John Brabin, whose name it bears, probably moved to Chipping and Lancashire to escape the Great Plague in London in 1666. A wealthy cloth merchant, he evidently developed a fondness for the village to which he had removed, and by his will of 1683, founded a charity and gave his property to the local people. The Brabin's Charity Trustees still own the building which acts as a village shop as well as a café for visitors. Despite the supermarkets' allure, there will surely always be demand for a convenient, local source of tins and veg, as well as a place of rest for tourists, at which caffeine levels can be restocked. I have visited Britain's oldest sweet shop at Pateley Bridge, and possibly England's oldest pasty shop at Bolton le Moors, but Brabin's of Chipping wears the great laurel of all.
A shop is essentially a place of exchange. The seller has a range of products which other people, the customers, desire. The customer has something the shopkeeper desires -cash, and a fair exchange is usually arranged. As I prepared for one of our Bible studies, I had to consider this saying of the Lord's found in Matthew 16:26:
For what profit is it to a man if he gains the whole world, and loses his own soul? Or what will a man give in exchange for his soul?
The first question I understand. One can have great worldly success, but still lose one's self in hell. Furthermore, material gains can dampen spiritual life, losing us, as it were, our souls. The second question is more enigmatic. It might mean that all the goods one has accumulated are still of inferior value to our precious soul, which God shall demand back from us at death. Or it might refer to the lost souls in hades who would give everything they ever had to leave that sullen place. Or, it might suggest the mere 'existence' which Christ-rejectors possess, rather than the abundant life He promises to all who will come to Him. They who never accepted the gospel's resurrecting power remain forever dead in their trespasses and sins, awake but not alert, existing, but not alive.
For thousands of years before Mister Brabbin's shop began exchanging commodities, people have been bartering for this and bargaining for that. But what will they give for their souls?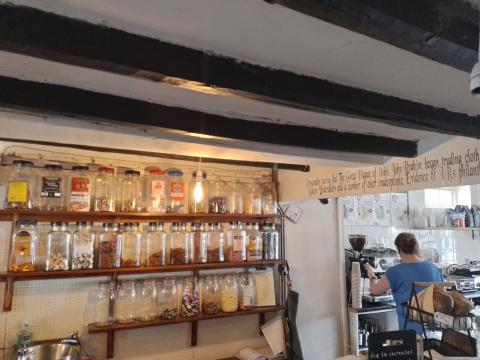 Isaiah 55:1-3: An Invitation to Abundant Life: (New King James Version)
 "Ho! Everyone who thirsts,
Come to the waters;
And you who have no money,
Come, buy and eat.
Yes, come, buy wine and milk
Without money and without price.
Why do you spend money for what is not bread,
And your wages for what does not satisfy?
Listen carefully to Me, and eat what is good,
And let your soul delight itself in abundance.
Incline your ear, and come to Me.
Hear, and your soul shall live;
And I will make an everlasting covenant with you—
The sure mercies of David.