Bridges of Invermoriston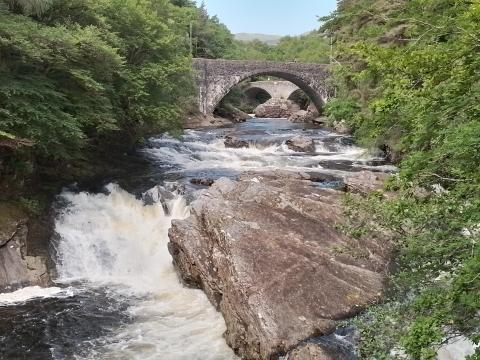 From the 'summerhouse' overlooking the River Moriston in the Scottish Highlands, one can see two bridges span that rather wonderful waterway. One was built by Thomas Telford in 1813, (further away) the other of the 1930s (closer by), but both are attractive and serve the same purpose. I suspect that the former was unable to bear the heavier traffic of a later age. Some towns build more bridges because of explosions in population or the allied development of new suburbs. Much as I like a natural setting for a river, I also admire the engineering marvel and aesthetic beauty of a good bridge.
I cannot find a reference in scripture to bridges or their use- please do correct me if I be mistaken. When God was not minded to allow the crossing of rivers via supernatural means, I suspect that travellers located a shallower section and forded it. Yet Christ is the ultimate bridge, though it is not a title He directly claimed. Over the chasm of death, He spans. He is the means by which sinful men and women can approach a holy God. Although many other bridges have since been built, offering more commodious and quicker routes, none make it to the other side. Only Christ and His finished work will bear your sinful weight and bring you to heaven.