Chapel Conversion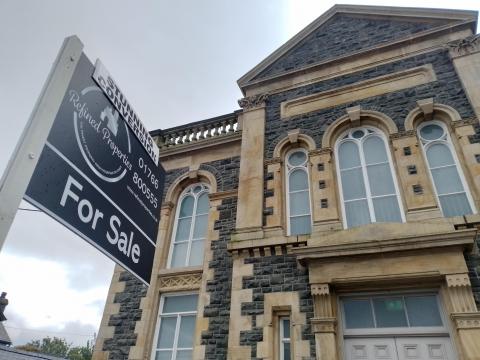 Another Welsh Chapel hits the housing market. I walked passed it in the attractive Gwynedd village of Penrhyndeudraeth. I was struck by how elaborate was the construction. If chapels were known for being plain while the parish churches were elaborate, this one certainly breaks the mould. It is now for sale, presumably for want of congregation, as an enterprising builder, no doubt, and his wife who fancies herself an interior designer, espied a business opportunity. I went home and looked up the estate agents' website. Unlike most, with their rather dry descriptions, this was written by an agent who enjoys the use of language:
We move immediately to the first floor to start our tour, set out with absolute splendour as living accommodation. Taking the stairs on entering through the door into the apartment, you will be amazed by the space that reveals itself in front of you. We will describe this space as a kitchen and dining area although we are sure there is more than enough room for some additional seating. The kitchen area itself is well equipped, featuring a range of base wall and drawer units in two colours, in addition to a central island, helping to utilise the space. Of course, you will immediately find the integrated appliances too; an oven, hob, wine fridge and fridge freezers. The original polished wooden floors are a striking feature in this space and the sizeable sash windows provide stunning light into the room, complemented by clever and bespoke electric lighting. A split-level utility area is accessed from the kitchen… Cleverly, one of the wooden features of the original chapel has been converted and could be used as a bar…
And all for a mere £350k. The page began with this intriguing intro:
There are chapel conversions and then there are CHAPEL CONVERSIONS. If you want to be amazed, come and look at this Grade II listed, grandly antiquated property, and see what can be achieved.
Once, human beings were converted to Christ under this roof. Now, the wealthy and aspirational are invited to marvel at this building's conversion from house of prayer to house of comfort. Of far more beauty and wonder is a human being who, born into a state of rebellion with God, feels the Holy Spirit's conviction and repents of his selfish life of sin, calling on the crucified Christ to forgive him. Such a message rarely appeals to the wealthy and well-heeled, the kind of folk who can afford to buy transformed, redundant chapels... but breath-taking conversions still happen.