Cundall Church: Unpaid Work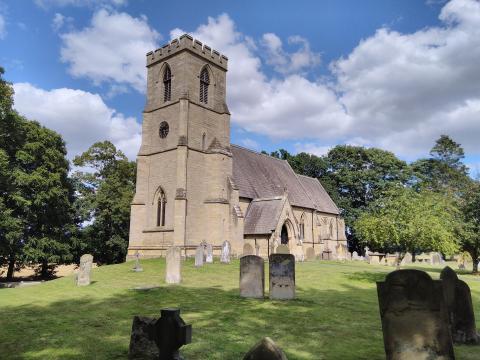 I called at the Church St Mary and All Saints in Cundall, North Yorkshire. Sadly, it was locked, which struck me as odd for so remote a location. Still, the building all seemed so very standard- a Victorian-era church with its bell tower and gothic windows, sitting in pleasant countryside with graves surrounding. If I had to imagine an English parish church- this would be it. Yet a sign of the gate caught my interest:
Community Payback
Work was undertaken on this site by offenders on Unpaid Work Orders imposed by the Court.
I suspect this refers to work on the walls and grounds rather than any ministry within the church. Here, convicted criminals were given unpaid work by magistrates to pay for offences that were too serious for a fine, but not great enough to warrant custody.
We Christians at Martin Top are not dissimilar. We too were convicted sinners, and now work in God's church. Some cook and clean, some play instruments or preach, others run groups or support individuals in prayer. Few of us are paid; most labour for nothing. Yet we are not working to pay off our crimes and atone for our misdeeds, for our Saviour did that on our behalf. Unlike the sullen workers at Cundall, we labour for our Lord for the sheer joy and privilege of serving Him.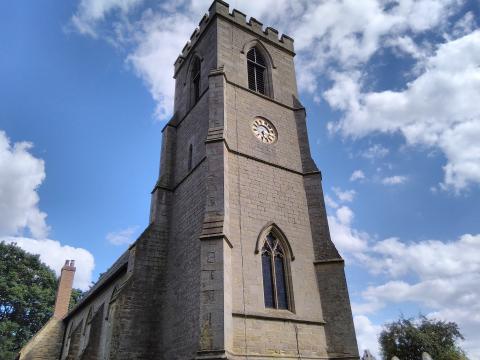 There is joy in serving Jesus,
Joy that triumphs over pain,
Fills my soul with heaven's music,
Till I join the glad refrain.
There is joy, joy,
Joy in serving Jesus,
Joy that throbs within my heart;
Ev'ry moment, ev'ry hour,
As I draw upon His power,
There is joy, joy,
Joy that never shall depart.
-O.J. Smith