The Destruction of Pharaoh's Host (1830)
The Destruction of Pharaoh's Host was painted by Samuel Colman about 1830. It shows a dramatic scene from the book of Exodus, in which a tiny figure of Moses (see bottom picture) raises his staff to summon the waters of the Red Sea to sweep down upon the Egyptian army. God is concealed in the pillar of cloud and fire, while Pharaoh is silhouetted at its base, raging at the mayhem. Colman painted a number of apocalyptic scenes like this, a popular taste in British art at the time. Divine intervention is shown unleashing nature's forces to destroy evil. Pharaoh's crown looks rather medieval and European than ancient Egyptian, but Colman is keen to depict it blowing off his head in the winds of righteous judgement.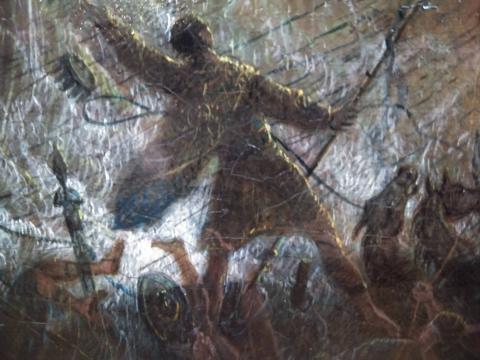 Why do the nations rage,
And the people plot a vain thing?
The kings of the earth set themselves,
And the rulers take counsel together,
Against the Lord and against His Anointed, saying,
"Let us break Their bonds in pieces
And cast away Their cords from us."
He who sits in the heavens shall laugh;
The Lord shall hold them in derision.
Then He shall speak to them in His wrath,
And distress them in His deep displeasure:
Psalm 2:1-5, NKJV
Kings and Presidents of the world, take note.