The Dream (1874)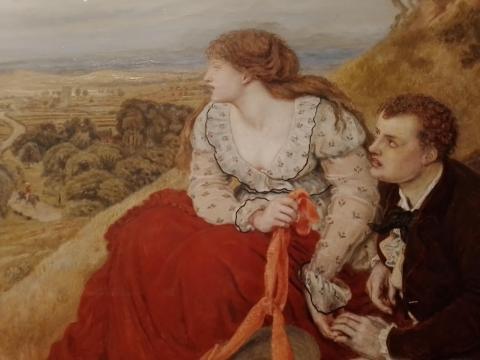 Lord Byron was a favourite poet of Ford Madox Brown. His painting, above, which hangs at Manchester's Art Gallery, illustrates Byron's partly autobiographical poem The Dream, about unrequited love and its devastating impact. It shows the adolescent poet and his first love, Mary Chaworth, sitting on a hill near their home. He is looking at her but she has eyes only for the approach of her lover, Jack Musters. He can be seen riding in the valley, signalling with his kerchief that he will hide a letter for her in their secret place.
If God so loves the world, but the world hates or ignore Him back, how awful this must be. And if He is my lover and I His betrothed, how lamentable it is that I look away at others in the distance. Says the Lord in Jeremiah 2:
How canst thou say, I am not polluted, I have not gone after Baalim? see thy way in the valley, know what thou hast done: thou art a swift dromedary traversing her ways…Can a maid forget her ornaments, or a bride her attire? yet my people have forgotten me days without number.