Fake Queen, Fake Jesus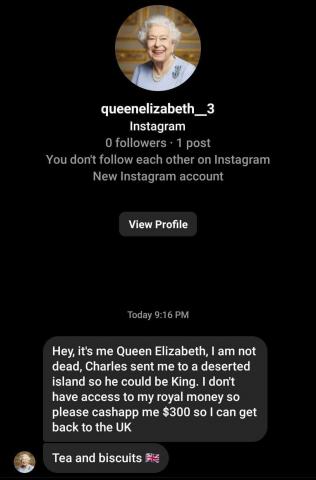 It did not take long. Back in September, after the late Queen's death, a fake Instagram account was set up in her name. It claimed that His Majesty had sent her off to a deserted island with no money, and begged the reader send $300 to her Cashapp account. I almost, almost wanted someone to send this fool some money for his cheek and imagination. We have here a fake Queen's social media account and a fraudster whose laziness was almost funny. I suspect no-one was fooled.
How many are fooled by fake Jesuses? Utah, Brooklyn, Rome, Mecca and Varanasi have all manufactured fake versions of the Lord Jesus. They have either added or subtracted from that material found in God's word. These fake Jesuses often make expensive and heavy demands on people, or offer them nothing but platitudes and cliches. The real Jesus, the incarnate God before whom all must give account, says in Matthew 11:27-29:
All things have been delivered to Me by My Father, and no one knows the Son except the Father. Nor does anyone know the Father except the Son, and the one to whom the Son wills to reveal Him. Come to Me, all you who labour and are heavy laden, and I will give you rest. Take My yoke upon you and learn from Me, for I am gentle and lowly in heart, and you will find rest for your souls.
The genuine article is always, always better than the fakes, the frauds the scams.