Family Lessons 50: Boom & Bust

My great, great-grandfather, Joseph Rowland Cottam, was a grocer from Wakefield, who seemed to move around the country, abiding in such diverse places as Dorset, Manchester and Rotherham. He was an enterprising fellow, and was not always opposed to engaging in criminality to make ends meet. In 1885, he purchased £20 worth of ordinary stock in Dorset's Abbotsbury Railway Company. It was hoped that a boom in the extraction of iron ore would offer high returns to investors who funded a line between Abbotsbury and Weymouth. Six miles of railway had taken six years to build, while sadly, three men lost their lives during its construction.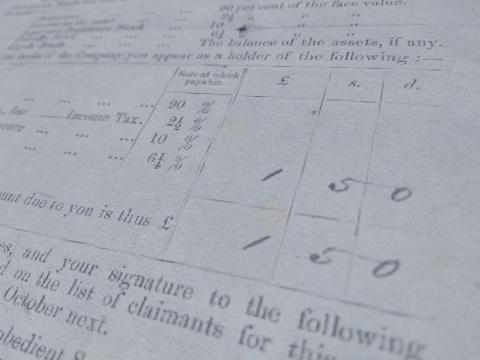 Sadly, the boom never occurred, and though the line was initially popular with day trippers, the Directors reported in 1890 that income amounted to a mere £419, but interest payments on the loans amounted to £907, and the total outstanding debt was £4,609. As well as a copy of the share certificate, I have a communication to Joseph dated 1889 describing the company's troubles. Finally, I have a Settlement of Claims proforma dated September 1896, advising of the company's liquidation and that the £20 of stock would be settled at £1/5 shillings. What should have made good money in the Victorian railway boom cost him most of his savings. He would have been better off sticking them in a tin box and hiding it under his bed. By 1901, Joseph was a 'gatekeeper' at the York Wagon Works in Rotherham, where his loss of the near £19 would have been sorely felt.
Capitalism makes some rich and keeps rich many others, while making and keeping others poor. This was the risk that Grandpa Joe took. Any investment made in this present world is bound to end in loss, for it is passing away, and we each have an appointment in eternity. Only what we do for Christ will have any lasting value.
Yet indeed I also count all things loss for the excellence of the knowledge of Christ Jesus my Lord, for whom I have suffered the loss of all things, and count them as rubbish, that I may gain Christ.  Philippians 3:8, NKJV