Family Lessons 63: Protestant Convert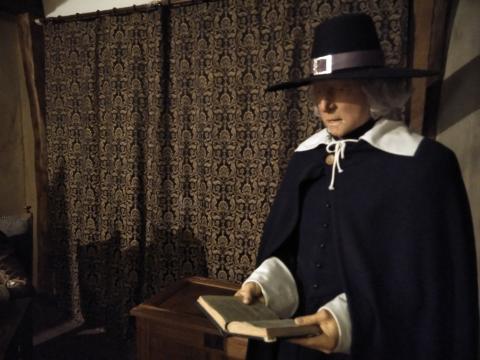 The Reformation was slower to arrive at our northern counties than it was in the south. Northerners were more conservative, worse educated and the absence of universities and other seats of learning made them more hostile to new ideas. Although the towns eventually accepted reformed doctrines (Bolton and Blackburn were later known for their unyielding puritanism), the remote hill farms and villages were bastions of the old ways. Furthermore, many of the rural folk viewed the 'new religion' with deep suspicion, lamenting the loss of the monks, masses and statues. My 12x great-grandfather, William Hathornthwaite, a yeoman farmer at Catshaw Hall in Wyresdale, Lancashire, was likely such a one. An uncorroborated source puts his birth in the 1530s; when the 'new' ideas reached his farm, the old ways will already have been entrenched in his thinking. Indeed, Peter Kenway Haythornwaite's research into the family suggests that there was a Jesuit Mission based at or near Catshaw at the time of Elizabeth I, the risks of which would suggest a sincere devotion to Rome. He also points out that many family baptisms seem to be absent from the parish records, indicating that they employed Catholic priests rather than Anglican clergy. William's daughter-in-law and my great-aunt Agnes was listed as a Recusant and Noncommunicant in 1640 (meaning she would not receive Anglican communion and clung to the Church of Rome), for which she had to pay additional taxes. Other branches of the family avoided protestant baptism for 120 years until finally yielding.
Thankfully, William's son, Lawrence, my 11x great-grandfather, seems to have converted to Reformed Christianity early on. Peter Kenway Haythornwaite writes:
Lawrence of Over Wyresdale, who should, according to the iron law of the Naming Rule, have secretly baptised at Catshaw Hall his first born son as William in honour of his Catholic father, defiantly and perhaps symbolically christened him Christopher (literally 'Christ-bearer') [at] the Church of England [at] Lancaster St Mary. After that, all his children appear to have been christened at Lancaster St Mary.
Grandfather Lawrence was born around 1580 and little Christopher's baptism was in 1603. Whether he had embraced Protestantism as part of his schooling, or whether he read the scriptures for himself in defiance of his father, one cannot say. Indeed, he might have abandoned Rome for financial and political purposes, rather than sincere conversion, but his first son's name might suggest otherwise. Certainly he was not listed as a Recusant when he was later expected to pay a 'lay subsidy' of eight shillings to Charles I's government.
Lawrence and Anne Hathornthwaite seem to have been sincere Protestants within a family that was sincerely loyal to Rome and the Pope. I find no evidence that they suffered for it; but then there is so little infomation to go off. Old William's will is held at Kew as part of the Towneley manuscripts; I should like to see what, if anything, he inherited from his popish papa. What he lost (or failed to inherit) from his father, he gained with Christ. When he was called to stand before his Judge in 1645, let us hope he claimed Christ's free merit and not an accumulation of good works or religious observances. 
So Jesus answered and said, "Assuredly, I say to you, there is no one who has left house or brothers or sisters or father or mother or wife or children or lands, for My sake and the gospel's, who shall not receive a hundredfold now in this time—houses and brothers and sisters and mothers and children and lands, with persecutions—and in the age to come, eternal life. But many who are first will be last, and the last first."
-Mark 10:29-31
St Paul's Church, Caton, where Lawrence and Anne married according to the Anglican service in 1603