Family Lessons 64: Preston Market Place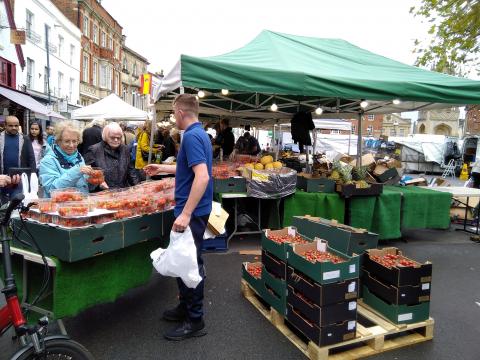 Herbert Harrison was my first cousin, six times removed. This basically means we are barely related at all, for his great-grandfather was my 6x great-grandfather, John Jackson of Clapham.  
Cousin Herb was baptised on 19 January 1834, at St John's Church, Preston. His parents, William Harrison & Mary, curiously gave theirs and his address as 'Preston Market Place'. William was a coal merchant, so he presumably retailed coal to the good folk of that borough, and lived above or close by his place of retail. It seems strange to live in a market place. Yet is not much of our earthly existence one gigantic market? We are judged by how much we can buy and sell; barely a day passes that we do not exchange one thing for another, or attempt to get a better deal or find a more attractive offer. The days are coming when the acquisition of goods will no longer occur. In Revelation 18:10-12, we read of the final fall of a mysterious city:
...standing at a distance for fear of her torment, saying, 'Alas, alas, that great city Babylon, that mighty city! For in one hour your judgment has come.' And the merchants of the earth will weep and mourn over her, for no one buys their merchandise anymore: merchandise of gold and silver, precious stones and pearls, fine linen and purple, silk and scarlet, every kind of citron wood, every kind of object of ivory, every kind of object of most precious wood, bronze, iron, and marble. (New King James Version)
Many have speculated about the city's identity- Rome? New York? London? I suspect it refers to the world-wide system of bartering, exchanging and enriching which has cheapened us all for so long. Little Herbert Harrison was born in a market place; less fortunate humans have themselves been bought and sold in them. Thankfully, the best thing, eternal life, is free.
"Ho! Everyone who thirsts,
Come to the waters;
And you who have no money,
Come, buy and eat.
Yes, come, buy wine and milk
Without money and without price.
Why do you spend money for what is not bread,
And your wages for what does not satisfy?
Listen carefully to Me, and eat what is good,
And let your soul delight itself in abundance.
Incline your ear, and come to Me.
Hear, and your soul shall live;
And I will make an everlasting covenant with you—
The sure mercies of David.
Isaiah 55:1-3, NKJV