Family Lessons 80: King's Compensation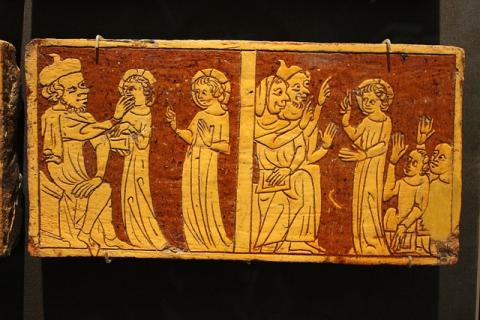 Good fortune often comes on the back of misfortune. In 1157, King Henry II came to stay at the home of my 26th x great-grandfather, Waldeve de Walton, to whose house at Chesterton, Staffordshire, the royal entourage repaired. After 'taking up lodgings', the house was burnt down 'probably owing to the carelessness or insobriety of some of the king's attendants', according to a Victorian translator. The King seems to have taken responsibility for his court's damage, and compensated Waldeve well: he was given 'thirty solidates of land in Chesterton or its adjuncts' (a solidate being 12 acres), in addition to 'six oxgangs of land in Walton, four oxgangs in Wavertree, and four oxgangs in Newsham, and the masterserjeanty of the wapentake (calculated at  £9 13s. 4d. a year in 1321), as well as 'foldage', a tax on impounded cattle at a rate of halfpenny a day in winter, and a farthing in summer. This all seems rather complicated, but it certainly amounted to a whole lot more than simply having his wooden manor house rebuilt. The Pipe Rolls for 1157, having recorded these additional financial burdens to the Exchequer, then conclude:
Et Waldevo Et Quiet Est
And Waldeve is quiet- or perhaps satisfied.
Seeing the King turn up with his friends and retainers would have meant a large food bill for dear Grampa Waldeve; seeing his house burn down must have been the crowning moment of an expensive few days. Yet his misfortune made him a wealthier man then he was before. He cannot have been poor to begin with- his house was deemed comfortable enough for a royal visit- yet his loss garnered great gain. Although I am at pains to point out that none of it made it down to me, those smoking ruins might have been the best thing that happened to him.
We Christians are encouraged to make sacrifices- to surrender our money, time, love and prestige. Many around the world pay a far greater price than we in Great Britain, it must be said. Yet as Jim Elliot famously quipped: he is no fool who gives what he cannot keep to gain that which he cannot lose. What we surrender for Christ's sake will be well and truly over-compensated.
And behold, I am coming quickly, and My reward is with Me, to give to every one according to his work. Rev 22:12
Image by Mariusz Matuszewski from Pixabay