Family Lessons 81: William le Jewe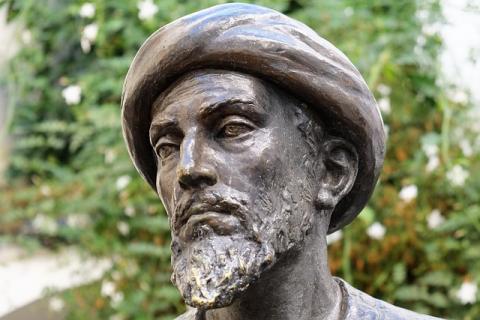 One of my ancestors was called upon to witness the transfer of property rights from one man to another. Medieval and early modern folk were for ever engaging in litigation over land and property, so its transfer was usually witnessed by leading locals, including my 19th great-grandfather, Hugh Del Crosse, who was Mayor of Wigan four times between 1379 and 1386. In his final mayoral year, he witnessed the
Grant from William le Jewe, chaplain, to Almaric le Walker, of Wygan, and Alice, daughter of Adam le Lorimer, of Wygan, of all messuages, lands and tenements, with buildings and appurtenances, which he had of the feoffment of the said Almaric, in the town and territory of Wygan, to be held of the chief lord of the fee by the accustomed services : Should the said Alice die without heirs of herself and the said Almaric, the property to go to Almaric and his heirs in perpetuity.
Witnesses : Hugh del Crosse, Mayor of Wygan, Adam de Byrkeheued, Mathew Russell, John ffoxe, chaplain, Thomas Cosyn, chaplain, Thurstan le Baxter, and others. Given at Wygan on Wednesday next after the Annunciation of Blessed Mary the Virgin [28th March], 9 Richard II. [1386].
This William the Jew is an intriguing figure, both because of his name (the Jews had been expelled from England in 1290 and did not return until Oliver Cromwell bade them welcome) and because of his occupation- a chaplain. The Roman Church in which he served and the lands over which it held sway was antisemitic to various degrees during the Middle Ages, so his apparent success and presumed ethnicity makes him all the more remarkable. Further research shows a number of Wigan folk bearing the name 'Jew', for example:
Alice widow of Thomas the Jew, and Alice wife of Robert the Jew, 1350
Robert son of Richard de Ince in 1352 granted land in the Scholes, adjoining John de Longshaw's land, to Hugh son of Henry the Jew
In 1383 William de Whittington released to William the Jew, chaplain, [the same as our friend above, presumably] his claim to the land called Jewsfield near Whelley Cross.
Evidently some Jews settled in Wigan and survived Edward I's expulsion order, or at least some of their progeny from a gentile parent were spared the requirement to leave. This William the Jew who called upon my grandpa to witness his financial affairs had clearly converted, or his ancestor had; his occupation surely spared him from any suspicion of sympathy towards his Judaistic roots. So was he a physical son of Abraham who really discovered Jesus as his Messiah, which is our hope for all Jews? It is hard to gauge the spiritual temperature of medieval Catholics. Some were just going through the motions, while many others had a sincere piety. Of the latter group, some foolishly worshipped bread, Mary and various saints, whereas others seemed to have a genuine faith in Christ, much as John Calvin considered the likes of Bernard of Clairvaux to have had. Whether William the Jew had truly accepted Jesus Christ as Lord and Saviour, or whether he or his forbears had converted for expediency's sake (and who could blame them?), we cannot tell. I have no doubt that Hugh Del Crosse was a loyal churchman, well known to the priests and abbots, but was he a simple and genuine Christian, well known to the Saviour?