Family Lessons 83: John De Walton, Victim & Aggressor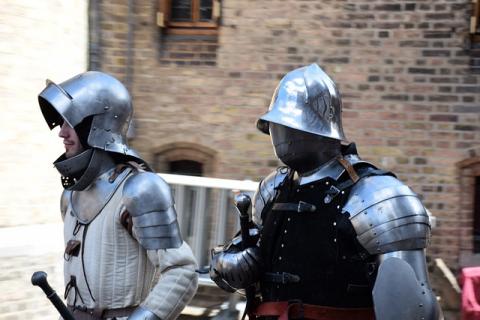 My 19th great-grandfather, John de Walton of Walton Hall near Liverpool, had some powerful enemies. His cousin Ellen and her husband, Robert de Fazakerley, alleged his 'bastardy', that is, they claimed that his parents were either unmarried or that he was not true heir to his father's manor. This made, rather conveniently, Ellen and Robert the true heirs. That month of August, 1412, they and a hundred others, including Sir John de Stanley, who was part of the powerful Lancashire family which became Earls of Derby, 'in war-like array' dispossessed John, his wife and children, while removing all their goods and chattels. John evidently appealed to the law for justice, which he was granted. Sir Thomas Gerard and others were commissioned to expel the evildoers and make inquiry; in 1418 the Sheriff of Lancashire was directed to make proclamation that Sir John de Stanley, Robert de Fazakerley and others, under penalty of £100, should, by authority of Parliament, suffer John de Walton to occupy peacefully his manor of Walton, which appears to have been achieved. With relatives like Ellen and Robert, the man certainly had no need of external enemies; poor John- attacked by his relations but protected by the law.
And then I found a record in the Kuerden Manuscripts for 1429. We are told that John de Walton of Walton and his sons Thomas (my 18x great-gramps), Nicholas, and James, 'with other yeomen and knaves of Walton', were indicted by Thomas Bridges, of Fazakerley, for waylaying him at Fazakerley with intent to kill him, and for wounding him and his servants. Although the outcome is not recorded, it paints John in a rather different light to that shown in 1412 and 1418. He went from being the victim to aggressor; from recipient of our sympathy to alleged thug with murderous intent. Of course, he might have been innocent of the charge, but he was certainly hauled before a Judge. The Law, no respecter of persons, would protect him from aggressors, while seeking to protect others from his, and his family's, aggression
Often we demand that God judges others' infractions and trespasses, but that He conveniently ignores our own. We denounce others' shortcomings but expect the turning of blind eyes to our own moral failings. The same moral law that condemns Stalin, Hitler and Peter Sutcliffe also condemns me. Sure, I have hurt fewer people, and many others have hurt me, but the Law is no respecter of persons, spurning all favouritism and partiality. God's great moral law will deal with all who have wronged you- the playground bully, the abusive uncle, the spiteful burglar, the unfaithful spouse...but it also condemns you, too. How on earth do we surmount such a prospect?
Thank God for His amazing grace!
For the law was given through Moses, but grace and truth came through Jesus Christ. John 1:17
No condemnation now I dread;
Jesus, and all in Him, is mine!
Alive in Him, my living Head,
And clothed in righteousness Divine,
Bold I approach the eternal throne,
And claim the crown, through Christ my own.
-Charles Wesley
Image by Frank Magdelyns from Pixabay