Family Lessons 84: Then On, My Life Changed
Today would have been my grandmother's birthday. She has been gone over two decades, and the pain and grief have somewhat diminished each year. Last week, I was hunting for a notebook and found one with nothing in it but a simple testimony which I presume she wrote down ahead of her baptism, which I reproduce below. It was never composed for formal scrutiny but it is clear that the Lord Jesus did a real and saving work in her heart:
My Testimony 26/10/80
I was always brought up to S[unday School} and church and believe in the Lord. Then I went to work in M[orecambe] where I lived in and got very little time off on Sunday and I'm afraid I didn't give much thought to going to church although I still prayed each day. As I got older, married & [had] children. and still having to work some Sun[day]s, I stopped going to church altogether except for Christenings, marriages and funerals. The last time I went was just my grandson's (Alan[s']) christening in 1979 and after that service, I started to think about going to church again but sad to say I did nothing about it. Then about a year after, [a] notice was pushed through the door saying these people were to take the children from the estate out for days in the holidays and that they were going to hold a family night in the Labour Hall and we went and had a very enjoyable night and when they had their first church meeting I went along and I began to realise that there was something in these people and I felt I wanted to be the same. I decided to ask the Lord into my life as my personal saviour. Then on my life changed. I found peace and any problems [that] I couldn't sort out I prayed about and handed them to the Lord for guidance.
There have been several things life that have happened in my life Since, that could have had drastic results but God never once ignored my prayer for help. A few weeks after accepting the Lord, my nephew was killed and [the] strength I received was great. If [I] ever needed proof of his care & love I received it at that time I am certain. No one at all can survive without Jesus in their life. A short time later I knew great joy when both my daughters also asked Jesus into their lives.
Driving on the E3 Autobahn, we were running very short of petrol. My daughter I prayed we wouldn't run out before getting to a petrol station and the needle didn't move any more onto empty until we arrived in Essen a found an all-night pump.
I like the little 'answered prayer' anecdote thrown it at the end, added a couple of years later. She did not mention the Docker Rally which also played an important role in her conversion, but I suspect that nervous baptismal candidates prefer their testimonies to err on the side of brevity. The Labour Hall to which she referred was the first premises of Lancaster Free Methodist Church. Having outgrown it, they moved to a local primary school and then their own plush building in Queen Street in the city centre. The Labour Hall of 2023 displays the ubiquitous pride flags, but back in 1980, it was the place where an older lady humbled herself and embraced the gospel. Two decades on, she was duly exalted.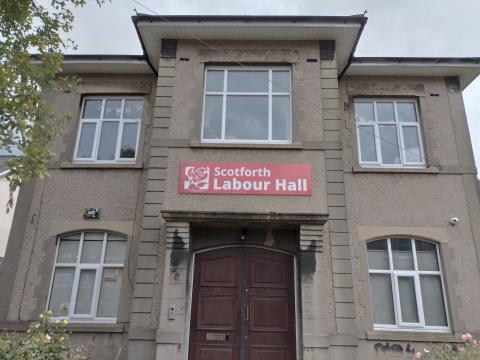 Therefore humble yourselves under the mighty hand of God, that He may exalt you in due time. 1 Peter 5:6, New King James Version