Fawcett, Hope, Hebden & Dope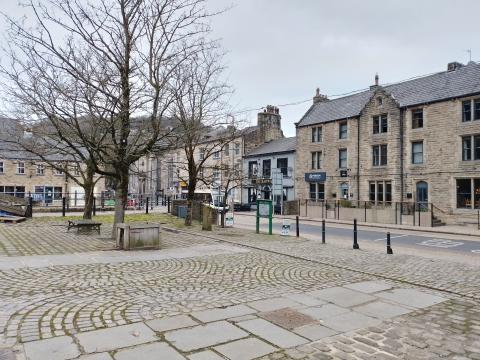 I recently visited Hebden Bridge. A pretty little town it is, not far from the Lancashire border over in Calderdale, the district governed by Halifax. Unlike some of the old mill villages that lay along that road, Hebden Bridge is rather middle class in character. Aging hippies stand waiting at bus stops and middle-aged hipsters ride about on bicycles with disproportionately small wheels. The occasional whiff of cannabis caught me; later, when I beheld the town from one of the nearby hills, I speculated that the mists I could see were concentrated clouds of dope from the lungs of social liberals who enjoyed illicit pleasures. The people seemed to be sophisticated and chic; even a couple of cleaners I saw emerging from a house into a van carrying their Henrys looked like they had Masters degrees in English Literature. Elderly lesbians in hand-knitted rainbow-coloured jumpers carried home organic veg in hessian bags while short-haired pansexuals were seen leaving any number of vegetarian and vegan cafes, contendedly. A small town with metropolitan values. You might have guessed that this is not really my kind of place and I wondered how welcome an evangelical pastor with decidedly conservative views would be made. It will no doubt be said that Hebden folk are tolerant of everyone. As I pondered this while people-watching, I remembered I was wearing a woolly hat and rather loose scarf draped about my neck; I may have blended in better than I liked to think.
It was to visit the town's Baptist Church that I was there. It is now pleased to call itself Hope Baptist, and it is a fine, rather heavy Victorian edifice, well maintained and suitably decorated. Before this grand building was erected, the congregation met at Wainsgate, and their minister was Rev John Fawcett. It was he who wrote the hymn Blest be the Tie that Binds back in 1772. It is a hymn we sing at Salem, and is a useful conclusion or introduction to a time of intercessory prayer. It was written to commemorate a call he received in 1764 to leave Hebden Bridge to minister at the more fashionable (and wealthier) Carter's Lane Baptist Church in London. Having accepted it and loaded his cart with furniture, his heart-broken congregation came to offer their farewells. Seeing their tears, he changed his mind, wrote to Carter's Lane declining their invitation, and remained with his humbler flock on £25 per annum. What the poor folk of Hebden could not pay, their Lord, I am certain, made up the difference. The hymn goes:
Blest be the tie that binds
our hearts in Christian love;
the fellowship of kindred minds
is like to that above.
Before our Father's throne
we pour our ardent prayers;
our fears, our hopes, our aims are one,
our comforts and our cares.
We share our mutual woes,
our mutual burdens bear,
and often for each other flows
the sympathizing tear.
When we are called to part,
it gives us inward pain;
but we shall still be joined in heart,
and hope to meet again.
This glorious hope revives
our courage by the way;
while each in expectation lives
and waits to see the day.
From sorrow, toil, and pain,
and sin, we shall be free;
and perfect love and friendship reign
through all eternity.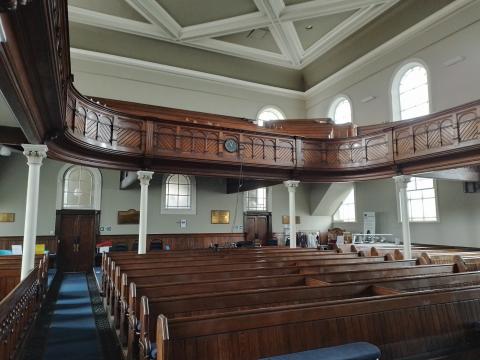 The current Baptist Church has a website, the contents of which disappointed me. There is no explanation of the gospel, though the following is written:
Hope Chapel was built in the centre of Hebden Bridge at the height of the Nonconformist revival. It remains a place of Christian worship and the church applies the radical principles of Nonconformism in its modern context. It provides an inclusive sanctuary space, a centre for culture and music and a place that works in partnership with others to contribute to the wellbeing of the local community.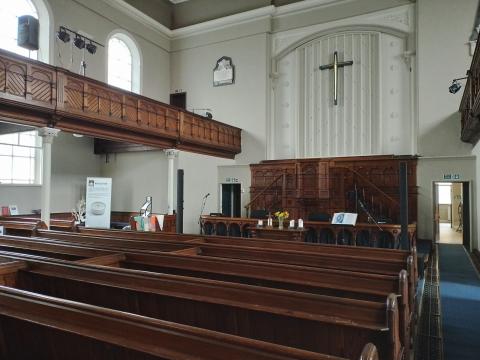 And:
Hope Baptist Church is a group of people who try to follow the teachings of Jesus and continue to gather for Christian worship each Sunday – and much more besides. The church works in partnership with community organisations to support the mental and spiritual wellbeing of all and the chapel is an inclusive sanctuary space for prayer, reflection and meditation.
Trying to follow the teachings of Jesus is laudable, but believing His message and submitting to His gospel is surely high up the list. I suspect that Hebden Bridge has a bigger influence on the local church than local church has on Hebden Bridge. Another of Rev Fawcett's hymns, Thy presence, gracious God, afford, might offer good instruction:
To us the sacred Word apply
With sovereign power and energy;
And may we, in Thy faith and fear,
Reduce to practice what we hear.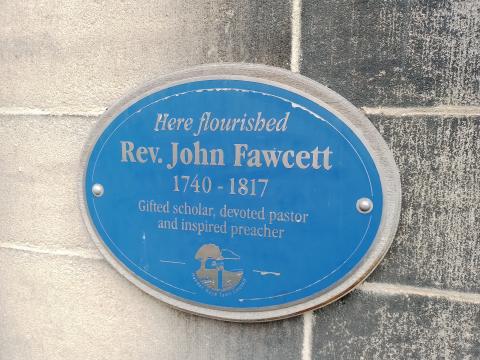 If he returned today, I suspect he'd have popped back on his cart and not looked back.