Flint Castle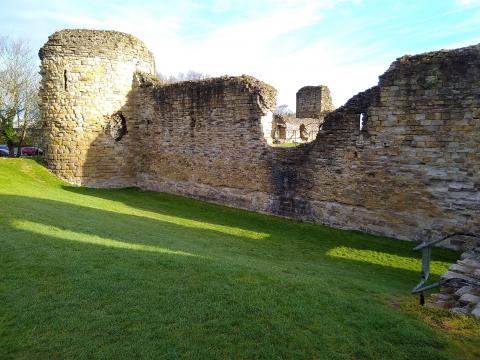 One of the pleasures of driving back from Prestatyn after a Word Alive conference is finding a port of interest at which to call. Last year, I called at Rhuddlan Castle; this year, I stopped at Flint in Flintshire. Though in a ruinous state, one may still detect the fortress' original, forbidding grandeur. When Edward Plantagenet decided to Anglicise Wales in 1277, this was the first castle he had built in his famous Ring of Iron. The Welsh were, and are, a proud and great people, and only the staunchest of forts would begin to subject them to the English Crown.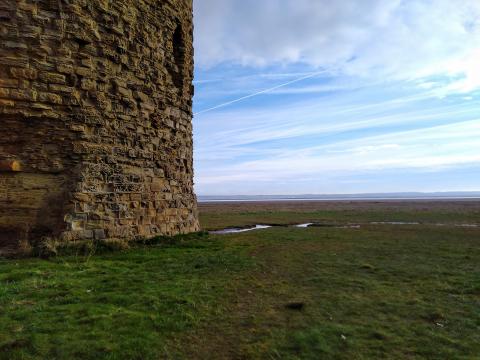 The castle is unusual for its having a large donjon- its massive south-eastern tower like a keep, accessed by its own drawbridge. It was also the site of the fateful meeting between Edward's great, great-grandsons, Richard II, and his successful rival Henry of Lancaster, who would replace him in 1399. Shakespeare has Richard saying:
Cousin, I am too young to be your father,
Though you are old enough to be my heir.
What you will have, I'll give, and willing too;
For do we must what force will have us do.
Here, Richard freely gives his captor all he would take, including the Crown itself. Yet something given forcibly can hardly be said to be 'given' at all. When Henry took it and deposed Richard, his own reign was short and difficult, plagued by Welsh revolts and physical illness. This month we especially reflected upon the crucifixion of Christ. Here is a King bereft of His glorious crown and given instead a thorny coronet. Yet He graciously gives to all who believe in Him a crown of righteousness, not forcibly, but freely; not begrudgingly, but generously. By sharing His royal splendour with redeemed sinners, He diminished His own glory and kingship not a jot; if anything, it adds a wonderful lustre to His existing awesomeness. As well as being all-powerful, all-knowing, all-beautiful and all-wise, He is all-gracious. For having shared in our poverty, He invites us to share in His glory and honour.