Fox & Lion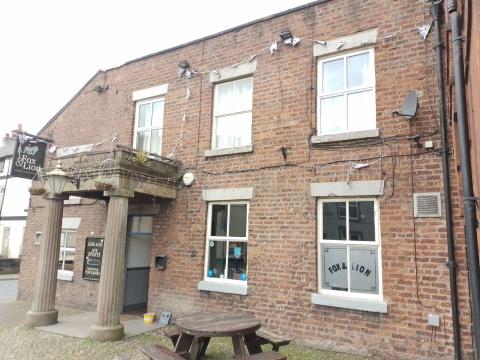 At Leyland is the nicely named Fox & Lion public house. It is a fairly plain, brick construction, possibly Georgian. It has a rather obtrusive, pillared portico, a little flourish of grandeur for an otherwise commonplace building.
In Ezekiel 13:3-4, false prophets are likened to foxes:
Thus says the Lord God: "Woe to the foolish prophets, who follow their own spirit and have seen nothing! O Israel, your prophets are like foxes in the deserts. (New King James Version)
In 1 Peter 5:8, the apostle likens their master to a lion:
Be sober, be vigilant; because your adversary the devil walks about like a roaring lion, seeking whom he may devour.
A fox may be a lesser threat than a lion, but it does the same thing: it destroys and devours. Those who speak lies in God's name are only a little less dangerous than the gnarled old lion whose work they do.