The Great Barn Rallies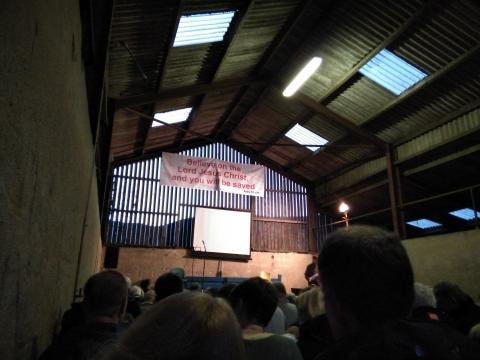 I attended two barn rallies this weekend. I spoke at the Lund at Kirkby Lonsdale on the Friday night, and accompanied Roger Carswell to Sedbergh on the Saturday. There must have been 200-300 at each one, many of whom were considerably younger than me. In 1980, my own grandmother was converted within a week of attending one at Docker Farm near Carnforth, so they have a special place in my heart. Yet it really is a strange thing to do- hundreds of people driving to remote farms so they can sit on bails of straw listening to gospel preaching. Why do we do it?
Many of us come from small churches and chapels in remote corners; few buildings could accommodate these numbers. From far and wide, new and familiar faces gather to share fellowship and hear the good news.
Our godless age has bred generations of people who have never darkened a church door. Perhaps going to a great barn with its religious neutrality makes it a more approachable venue.
Barns might be redolent of the stable in which the Saviour was born. His early visitors gathered there to meet Him and share His company.
They might also remind us that the countryside often has more believers now than the cities. The latter are places of diesel fumes and woke ideologies, the former God's clean air and plain, common sense.
At Sedbergh, I bemoaned the lack of barn rallies in the Ribble Valley in which are chapel is found, as opposed to the Lune Valley which boasts several. Let us pray we can establish one in our own district.
That our barns may be full, supplying all kinds of produce; that our sheep may bring forth thousands and ten thousands in our field. Psalm 144:13