Greenfinches of Martin Top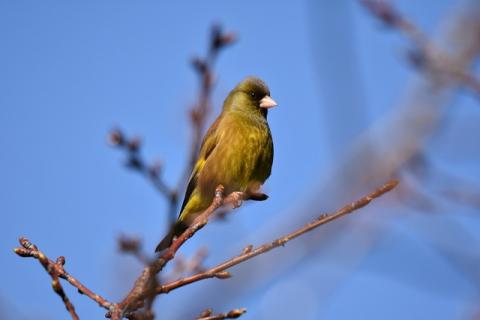 It was our pleasure last Sunday morning to hear a greenfinch sitting in one of the trees opposite our chapel. Although not a classic song bird, its sound is pleasant and distinctive. Their numbers declined from the 1970s, but rose again in the 1990s, only to fall again; the population is only 37% of what it was in 1993. The RSPB attributes this to trichomonosis, which may be partly caused by unclean bird feeders. As any chef or householder will know, serving good food is not enough; it needs to be prepared and cooked in a clean environment. It would be better to eat a McDonald's Happy Meal than a roast dinner prepared on dirty surfaces by unwashed hands coated by all manner of harmful bacteria.
Preaching God's truth is important, but those who venture into pulpits must have godly lifestyles and clean lives. I pray to God mine might be more so.
Who may ascend into the hill of the Lord?
Or who may stand in His holy place?
He who has clean hands and a pure heart,
Who has not lifted up his soul to an idol,
Nor sworn deceitfully.
He shall receive blessing from the Lord,
And righteousness from the God of his salvation.
Psalm 24:3-5, New King James Version