High Auckland, Low Scripture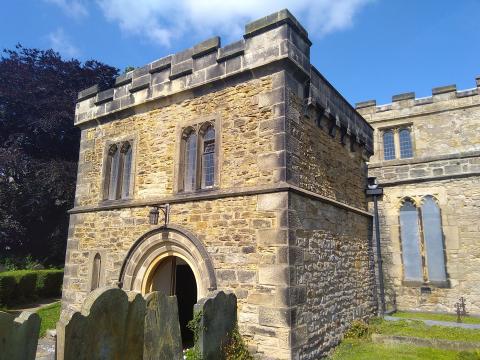 St Helen's Church in Auckland in the diocese of Durham is a surprisingly high church. This means it is Anglo-Catholic (rather than being situated on some peak), aping the Roman Church's ceremonies and doctrines, while retaining membership of the Anglican communion. Before the great ejection of 1662, Auckland enjoyed the sound ministry of Rev John Maskall, whose preaching would have been long, but Biblical. Today's church advertises its rosary classes while statues of Mary litter the sanctuary where its richly dressed clergy perform their motions afore the altar. A laminated piece of paper in its porch explained the reason why:
We affirm the faith of the Church as revealed in scripture and tradition.
Whereas tradition may inform, scripture alone is the repository of God's revelation. The difference between ourselves and cults, sects and Rome-ward brethren of the state church, is that we extol Sola Scriptura, the Bible alone. The Bible plus tradition, popes, Mormon prophets, Watchtower boards or self-appointed apostles is a tainted Christianity. These waters may appear pure and pleasant enough to quaff, but it will soon send one to the privy, to be rid of its calcifying effects on the bowel. Let us always aim to be Bible folk, Christians of the word. Other sources may be interesting, but they are never so nourishing. 
Deal bountifully with Your servant, That I may live and keep Your word. Ps 119:7