Highland Lightning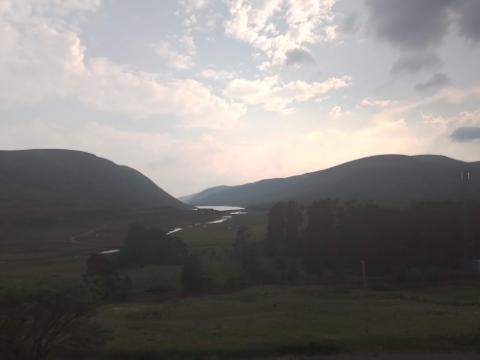 At the time of writing, I was enjoying a near four-hour train journey from Glasgow to Inverness cutting through the Scottish Highlands. I have been here before; the area's majestic beauty does not take me by surprise…and yet it does. The brooding hills and mountains, the colourful heathers, the clouds' shadows sweeping across the bracken. Even the view from outside our chapel continues to fascinate me, and that is not so stunning as these moody glens, haunted by the ghosts of ancient Gaels and haughty stags. It was all so very romantic.
Somewhere along that splendid Highland route, however, and a signal box was struck by lightning, rendering the whole line unusable. So from Perthshire to Inverness, we travelled on coaches, adding an hour to the journey. It meant we spent even more time gazing at those mountains, and my anticipated Spag Bog would not be enjoyed till after 8.30. We might romanticise the natural world, but it can also inconvenience us, or worse. Many of those alpine valleys and peaks were caused by God's watery judgement; the natural world lies under a curse resulting from its Caretaker's careless rebellion. That lightning strike, still a part of the natural world we rail-users had been so keen to admire, caused us an hour's delay.
The new heavens and the new earth will be even more splendid than the old, but without the red teeth and claws, the disruptions, the imbalances, and the hazards. Might the new earth's lightning be as beautiful as the old's, while posing no danger at all? Might the lions and leopards be as spectacular there but with a docility that even a child might play with them?
But as it is written:
"Eye has not seen, nor ear heard,
Nor have entered into the heart of man
The things which God has prepared for those who love Him." (1 Cor 2:9)
Behold the natural splendour of our earth, but anticipate the supernatural splendour of the next.