The Hollow Crown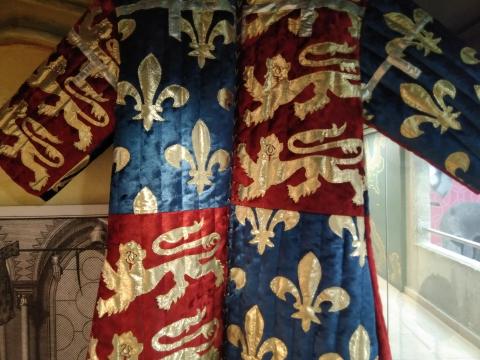 I have been reading Dan Jones' The Hollow Crown, a rather masterful survey of the Wars of the Roses. He has helped fill the many gaps in my knowledge of this crucial and complex period of our history. The book helped demonstrate the old maxim: what goes around, comes around. 
In the 1410s and 20s, France was divided between warring factions which enabled the English to conquer much of the land. The French king, Louis, was mentally ill and the conquering English King, Henry V, married his daughter, making himself heir. Within a few decades, the son of that union, King Henry VI, was himself mentally ill, which added to his general sense of torpor. The English were all but expelled from France, and then became themselves horribly divided, as they grouped into Lancastrian or Yorkist camps, fighting each other in gigantic pitched battles of stomach-churning proportions. What goes around, comes around.
Jacquetta of Luxemburg, wife of John, Duke of Bedford and brother to King Henry V, married a humble squire and small landowner in her widowhood, Richard Woodville. For marrying so low-born a man, the couple were fined, but forgiven. The Earl of March, who became the Yorkist Edward IV, married the eldest daughter of this union, Elizabeth Grey, who became his queen and mother of his children. Edward who castigated Woodville for his lowly birth made him grandfather to his sons and daughters. Furthermore, the man who would topple Edward's Yorkist family, Henry Tudor, was himself descended from a 'mismatched' marriage. A generation earlier, and Henry V's French queen, Katherine de Valois, fell in love with, and married, one of her servants after her husband died prematurely. His name was Owen Tudor, and he is ancestor of the Tudor monarchs who ruled this land after the Roses' conclusion. For marrying such a humble man, she was almost despised, but her powerful descendants perhaps vindicated the union. Edward IV despised a man of humble birth, yet married his daughter; his own family would be deposed by another man who came from a humble union. What goes around, comes around.
Edward IV's Yorkist regime replaced Henry VI's Lancastrian regime. The Lancastrians had come to the throne when Henry, Duke of Lancaster, deposed Richard II in 1399, and took the throne for himself as Henry IV. The Yorkists deposed his grandson, claiming a stronger legitimacy in the person of King Edward IV. Yet Edward's own heir and son, Edward V (one of the 'princes in the Tower), would be himself secretly deposed by Edward's brother, King Richard III, who would claim a greater legitimacy than his nephew. The Lancastrians usurped the throne, and the Yorkists usurped it from them, and from each other. What goes around, comes around.
After the Battle of Tewkesbury in 1471, Edward IV, perhaps with his brothers, went to the Tower to murder Henry VI, in whose name a rising had just been quashed. In 1483, Edward's own son and heir would be discreetly killed in that same, grim fortress, to smooth the way for his relative's accession (Richard III). What goes around, comes around.
Late medieval history is complicated, but it highlights the cyclical monotony of sin and rebellion. Thankfully, we have a a King who shall never be deposed and replaced, though many try. The crowns of earth are hollow and its glories paper-thin. Let us therefore look to the world to come. 
And each creature that is in heaven, and that is on earth, and under earth, and the sea, and which things be in it, I heard all saying, To him that sat in the throne, and to the lamb, blessing, and honour, and glory, and power, into worlds of worlds. Revelation 5:13, Wycliffe Bible