Horlicks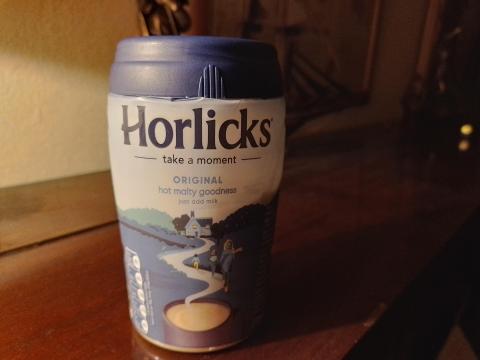 My next geriatric beverage to try was Horlicks. I expected it to be just like Ovaltine, but found it much sweeter. I added three heaped teaspoons' worth into my cup of hot milk, but it proved to be rather sickly, like tea with too much sugar. It tasted like a cloying cup of pure diabetes, but a spoonful less of the cream-coloured powder made it more tolerable the night following.
It was initially marketed as a drink for 'infants' and 'invalids'. The Horlick brothers went further in the 1930s, even inventing an illness called 'Night Starvation', the sufferers of which were allegedly denied much-needed essential vitamins during nocturnal sleep, and for which a hot cup of Horlicks before bedtime was just the remedy. Today, Unilever would be sued for false advertising if it made such a claim.
I prefer Ovaltine, but a hot cup of Horlicks (with less powder than the jar suggests) is not unpleasant. Yet this respectable old drink was first sold somewhat dishonestly, with a morally questionable sales strategy. There is no such thing as Night Starvation; a Creator who overlooked this is hardly worthy of the name. No, the body extracts all the nourishment it requires from food eaten the day before and following. If you find yourself up in the night, raiding the fridge, it is because you lack self-control.
Like Horlicks, world religions are now respectable and established features of human thought, history and civilization. Yet they were built on a lie, a deception, a fraud: they claimed to fix the human condition and offer salvation. They may offer some satisfaction to those who quaff from them, but they cannot accomplish what they promise.
"Nor is there salvation in any other, for there is no other name under heaven given among men by which we must be saved." Acts 4:11
And David said with longing, "Oh, that someone would give me a drink of water from the well of Bethlehem, which is by the gate!" 1 Chronicles 11:17