Hubberholme Font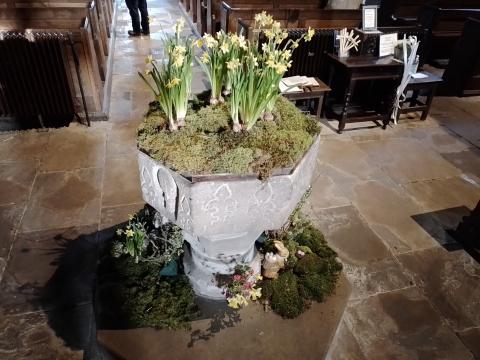 At Hubberholme Church in Yorkshire's dales is an ancient font upon which are carved the features of a muzzled dog and a pair of vernacular faces, which appear to each have a hand stroking its chin, as though in deep contemplative thought. It was late spring when I called, and someone had rather cheerily used the font's lid as a flowerpot from which daffodils might grow. Presumably, this could be lifted away in the event of a babe presented for baptism. I love St Michael's church; it satisfies my nostalgia for the medieval world, with its darkness and heavy stonework. Yet this heavy and ancient gloom makes those bright yellow flowers the more welcome.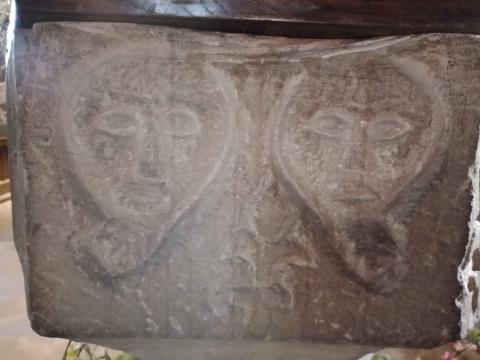 Life's gloom, sorrow and pain will not end until death kindly relieves us of our earthly tenancy. Do not therefore be surprised at the veils of sadness and tears through which we must so often pass. Rather look for those little tokens of hope and glimmers of light that God sends our way. St Michael's church is dark and shadowy, but those flowers were a most pleasant contrast. I thanked God for them.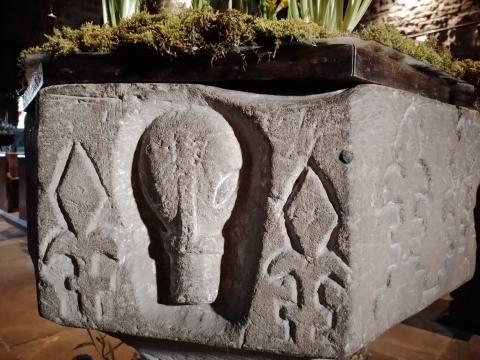 Buried in shadows of the night,
We lie till Christ restores the light;
Wisdom descends to heal the blind,
And chase the darkness of the mind.
Isaac Watts, No 1006, Gadsby's Hymns