Hymns that Have Helped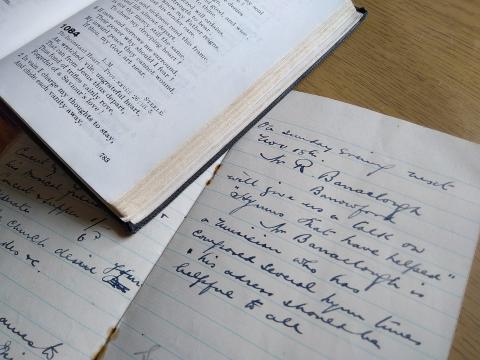 Hymns that Have Helped
This was the title of Mr R. Barraclough's talk held at Martin Top on November 18th, 1934. The Pulpit Notice Book added:
Mr Barraclough of Barrowford is a musician who has composed several hymn tunes and his address should be helpful to all.
And I dare say it was. Hymns, I think, are only second to scripture in the way they communicate divine truth. Although God's people sometimes elect to sing shallow froth, and some older hymns are now forgotten for the best of reasons, a good hymnbook is a little treasury of eternal jewels. I have been reading Gadsby's Hymns these past months, and this I find helpful indeed.
Blessed Spirit from above,
Teach, O teach me how to pray;
Fill my soul with heavenly love;
Lead me the celestial way.
When temptations me surround,
Help me, Lord, on thee to call;
When iniquities abound,
Save, O save me, or I fall.
When thou hidest thy lovely face,
Till the cloud is passed away,
And I feel the sweets of peace,
Never let me cease to pray.
When I feel my heart like stone,
When I have no heart to pray,
At thy feet, O God, I'd groan,
"Take this stony heart away."
Holy Spirit, on me shine;
Make my evidences clear;
Then I'll say that God is mine!
I shall with the Lord appear!
Gospel Magazine, 1781, in Gadsby's Hymns, 963.