Jacob's Join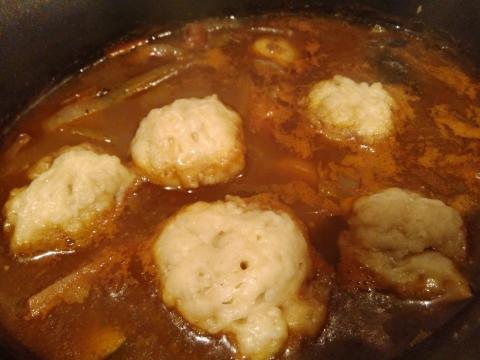 Martin Toppers were invited to a Jacob's Join on New Year's Eve. I thought nothing of it, but some folk, alas, did not know what it meant. It refers to a meal or supper to which attendees each contribute a dish or bottle, which is shared among all who come. Thus, I brought some cakes, but much enjoyed others' cheeses, biscuits, drinks and nibbles.
Online, it said to be
...commonly used in the mountainous area of Lancashire and Yorkshire (Phrases.org.uk) (Lancashire has no mountains thanks to the Rt Hon. Edward Heath).
The Guardian alters somewhat the geographical spread, stating:
It is a phrase used in Lancashire and Cumbria for each guest bringing a plate of food to a party
This would certainly account for one of our Yorkshire members being ignorant of the term's meaning (though I noted that he contributed several trays of food). Eric Partridge's Dictionary of Slang and Unconventional English indicates it is a purely Lancastrian term. I have only ever heard it used in church circles, so it is tempting to associate it with Jacob the patriarch. I cannot say he is particularly associated with sharing food; in Genesis 25:29ff we read
Now Jacob cooked a stew; and Esau came in from the field, and he was weary. And Esau said to Jacob, "Please feed me with that same red stew, for I am weary."
This is hardly a Jacob's Join supper, especially as his brother lost his birthright as a result. It is possible that 'Jacob' was some nineteenth-century Methodist fond of organising love feasts, to which each class member would contribute. On the other hand, it might refer to Isaiah 14:1:
For the Lord will have mercy on Jacob, and will still choose Israel, and settle them in their own land. The strangers will be joined with them, and they will cling to the house of Jacob.
God changed Jacob's name to Israel and the text anticipates the day when when gentiles would be joined to Israel (Jacob) through faith in his descendant, the Lord Jesus Christ. Mercifully, we contribute nothing to the Lamb's wedding supper; Christ provides everything, and we nothing:
"Ho! Everyone who thirsts,
Come to the waters;
And you who have no money,
Come, buy and eat.
Yes, come, buy wine and milk
Without money and without price.
Why do you spend money for what is not bread,
And your wages for what does not satisfy?
Listen carefully to Me, and eat what is good,
And let your soul delight itself in abundance.
Incline your ear, and come to Me.
Isaiah 55:1-3a