Jerusalem Sage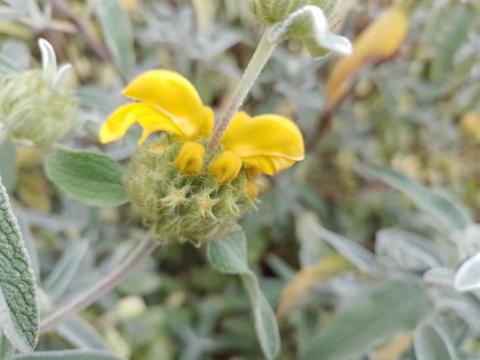 This Jerusalem Sage I found growing not far from the coast in the North Yorkshire town of Whitby. It is an attractive yellow flower, yet the Gardeners' World Magazine suggests that
The dried seedheads work well in the winter border, making the perfect winter silhouettes.
Even when apparently dead and expired, the plant adds beauty to a garden.
The golden age of Jerusalem will be when the King of kings returns and establishes there His throne, a state anticipated and foreshadowed during the great reigns of kings David and Solomon. Yet even during this millennia-long period of decline, the city holds a fascination for so many, which is why it continues to be a place of perennial conflict. Whatever its beauty in this time of spiritual winter, its latter-day glory will soon be observed. It is not its past triumphs and associations which will cause it to shine, but the great King who comes to dwell there:
Great is the Lord, and greatly to be praised
In the city of our God,
In His holy mountain.
Beautiful in elevation,
The joy of the whole earth,
Is Mount Zion on the sides of the north,
The city of the great King.
God is in her palaces;
He is known as her refuge.
Psalm 48, NKJV,