Lessons from Crummackdale: Wash Dub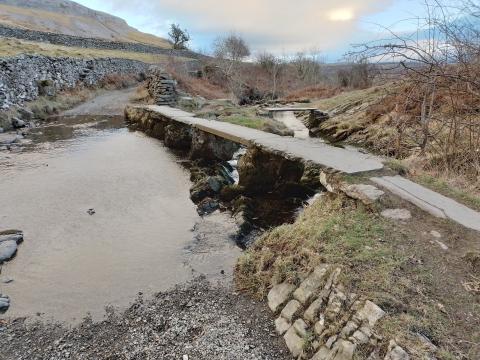 Close by Crummackdale is a stretch of Austwick Beck in which the old Wash Dub is found. This was a place in which sheep were washed in the stream to remove dirt from fleeces and parasites from skin. Boon Day was when neighbouring farmers got together to wash their flocks in the days before the chemical dip.
In scripture, we Christians are often likened to sheep. And like real sheep, we often resist being cleaned and sanctified. We enjoy having a shepherd and feeding on the good grasslands, but against the Spirit's work in sanctification do we struggle and bleat. We should anticipate the resurrection bodies and our future lives with Christ, but we should not make this an excuse to tolerate the old nature in the meantime. The Spirit would dunk, wash and scrub that we might now be cleansed and pleasing to the Master whose sheep we are.
But we ought always to thank God for you, brothers and sisters loved by the Lord, because God chose you as firstfruits to be saved through the sanctifying work of the Spirit and through belief in the truth. 2 Thessalonians 2:13, NKJV