Lud's Church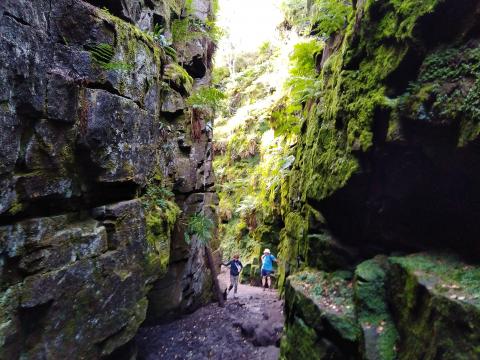 I have written about many of the old churches at which I have called this summer. Their architectures, associations and monuments all contain lessons and admonitions, good and bad, for we who follow Christ. How about this for a great church setting (above and below)? Although I fancy it too cold and wet for the winters, this ravine keeps cool during the summers and unlike many ravines and church porches, does not stink of tramps' urinary discharges. It is called Lud's Church and it is a fine natural chasm in the wooded hills of Staffordshire. Although the Archaeology and Metal Detecting News magazine argues, quite convincingly, that it gets its name from Lugh, the Celtic moon god, whose soft light would pour into the chasm from above, its name probably comes from Walter de Ludank. Walter is said to have worshipped here in the early 1400s, along with his fellow Lollards. These were the followers of John Wycliffe, a Leicestershire parson who rejected Roman Catholicism 150 years before Luther and Protestantism. Dismissing the Mass, saint-veneration and popery, they were despised as heretics, and hunted down in order to be burned. They therefore met in secret, hearing those wonderful words of Wycliffe's English Bible, a book that was illegal to read and possess. The ravine is long and its walls steep, providing a good auditorium for those would come to listen.
From above, it is hard to spot; even now, the trees and bushes give it a covering, so how much more so in the heavily forested Middle Ages. Nevertheless, Walter de Ludank is said to have been arrested here, so the secret was not kept. The primary sources are scant, but I suspect Brother Lud was afterwards dispatched to glory; from worshipping in a ravine he was translated to the heavenly temple but a few days or weeks after his detention.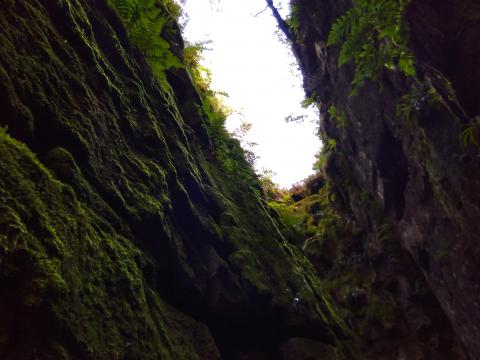 It may lack beautiful masonry and sweeping spires; it may not boast an ornate pulpit or comfortable pews, but here the verdant ferns and lush ivies carpet its walls and shelter its congregation. In this natural temple of God's creation, glorious gospel truths were shared when much of the land was shrouded in theological darkness. Here, God's people were hunted and seized, that their Lord might the sooner share with them the pleasures of His heaven.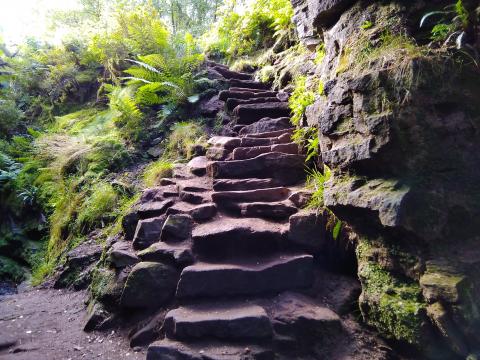 And othere asaieden scornyngis and betingis, more ouer and boondis and prisouns. Thei weren stoned, thei weren sawid, thei weren temptid, thei weren deed in sleyng of swerd. Thei wenten aboute in broc skynnes, and in skynnes of geet, nedi, angwischid, turmentid; to whiche the world was not worthi. Thei erriden in wildernessis, in mounteynes and dennes, and caues of the erthe. And alle these, preued bi witnessing of feith, token not repromyssioun;
Hebrews 11:36-39, John Wycliffe's Bible, and below, in modern spelling:
And others assayed scornings and beatings, moreover and bonds and prisons. They were stoned, they were sawed, they were tempted, they were dead in slaying of sword. They went about in badger skins and in skins of goats, needy, anguished, tormented; to which the world was not worthy. They wandered in wildernesses and in mountains and dens, and caves of the earth. And all these, approved by witnessing of faith took not repromission;