Maria from Sterne (1781)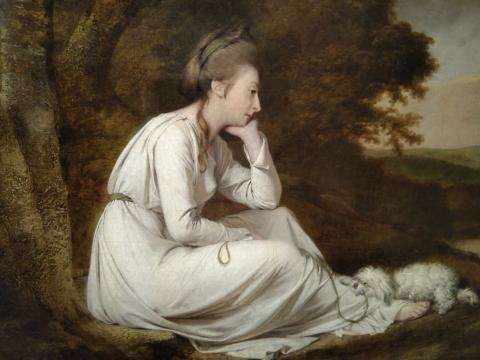 Joseph Wright of Derby painted Maria from Sterne in 1781. Maria is a character from Laurence Sterne's A Sentimental Journey (published 1768). Maria has lost her joy after being dumped by her lover. Not only does Wright capture that awful feeling of loss on her face, but reflects it in Sylvia, skillfully painting her little dog's matching, melancholic expression.
Pets in general, and dogs in particular, often seem to gauge our mood and offer sympathy in their own way. When my grandmother was ill and probably dying, our family dog would climb on top of her as she lay on the settee, offering what affection and protection she could muster. The sympathy of pets, even if it is real (which I do not dispute but non-pet owners may) can only go so far. Hebrews 4:15 states that the Lord Jesus, whom it terms our high priest, goes further:
For we do not have a High Priest who cannot sympathise with our weaknesses, but was in all points tempted as we are, yet without sin.
Christ Jesus sympathises with your problems and weaknesses, not by drawing on His vast reservoir of omniscience but His thirty-odd years of experience. Truly, He alone can mediate between God and man, for He alone can represent both parties, without having compromised His own righteousness. He too saw pain, hardship, oppression and depression. He kindly supplies all the grace, strength and power to overcome them. He does not merely detect your mood and feel sorry; He recalls His own sorrow and offers you the support that He had to do without.