Melling's High Altar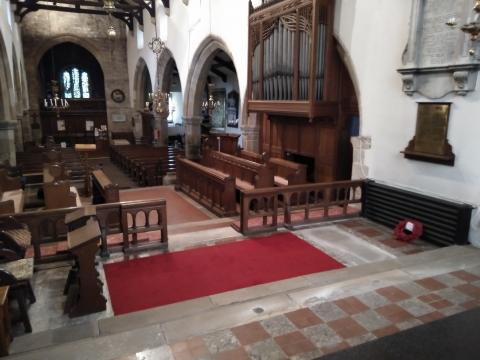 I recently called at the parish church of Melling, in Lancashire's Lune Valley. This is a building which I have often passed but never had the time to visit. One of the advantages of attending an online, Australian funeral at 2am, is that it affords one greater leisure during the day. I duly called at this veritable old lady, seeking treasures within and without. Thankfully for November, it was left open, and its internal inspection did not fail to disappoint. Future posts may well catalogue some of my findings; for now, I shall content myself with its raised altar.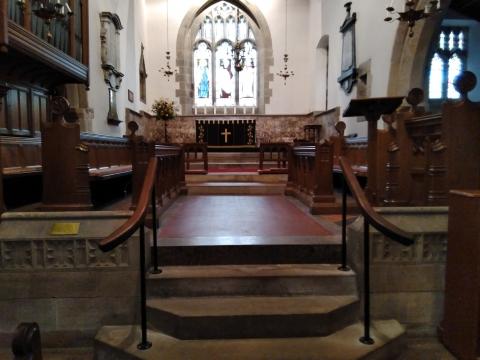 To approach this glorified communion table, one must ascend no less than ten steps. The official guidebook makes no comment on this, but does say that the chancel, that part of the church wherein the altar sits, was subjected to a relentless cycle of repair and neglect for 300 years after the Reformation. I suspect that clergymen with high church leanings are responsible for so elevating the altar above the level of the congregation in the nave. As Anglican worship refocused upon the sacrament and away from the pulpit, the communion service assumed an elevated status, much as in Romanism.
This seems to be a real contrast to the actual altar upon which the Lord Jesus was sacrificed for sin's remission. It was not in the sacred and discreet precincts of the Temple, but on an exposed spot, with full public access, His bleeding body subjected to the mockers' jeer and the crowd's nonchalant gaze. The cross was not something merely observed from afar, but a nearby, bloody symbol of wrath. One might have reached out and felt its roughness on the hand.
Christ's sacrifice needs no repeating or supplementing, no cordons or additional barriers. It was an open declaration of God's eternal covenant, His public manifestation of saving intent. By faith, we come to God through Christ, and Him crucified. Draw near to the cross and behold your old selves and sins crucified; approach the Saviour from afar, and sit in the shadow of His great atoning work.
Then let us sit beneath His cross,
And gladly catch the healing stream;
All things for Him account but loss,
And give up all our hearts to Him;
Of nothing think or speak beside,
My Lord, my love, is crucified!
-Charles Wesley