The Newcastle Packet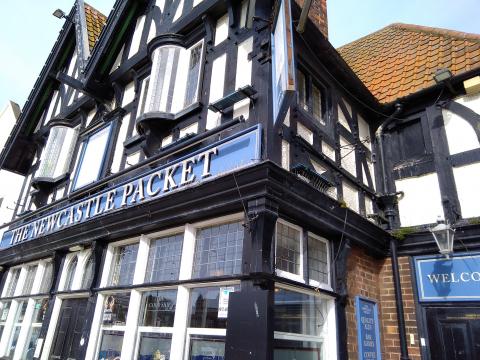 The Newcastle Packet is an unusually named pub in the seaside resort of Scarborough. Its frontage might be called Mock Tudor, or Tudorbethan, with its black beams and white paintwork. This style became popular in the nineteenth-century and even late twentieth-century properties on housing estates in Briercliffe paying it homage. It is not really Tudor, but medieval- what we might call English vernacular. Yet the Newcastle Packet, far from being a mock-Tudor property is possibly the oldest dwelling in Scarborough, with its internal wooden frame being dated to 1230. In the ginnel to its side are some medieval carvings connected to the collection of customs. So here is a genuine medieval house with a pretend medieval frontage.
Many churches are relatively modern. Even England's oldest religious buildings were constructed near a thousand years after Christ's birth. Many more, especially of our protestant manner, date back just a few centuries. Yet go beneath the surface, and you will espy an ancient heritage indeed. Look past the refomers and puritans. See beyond even the apostles and prophets, the patriarchs and early forbears, to the 'Lamb slain from the foundation of the world.' God in His amazing grace and incomprehensible patience, had determined to save people before the world even began. That is our heritage.
For You, O God, have heard my vows; You have given me the heritage of those who fear Your name. Psalm 61:5