No-one Heard Will Hyrd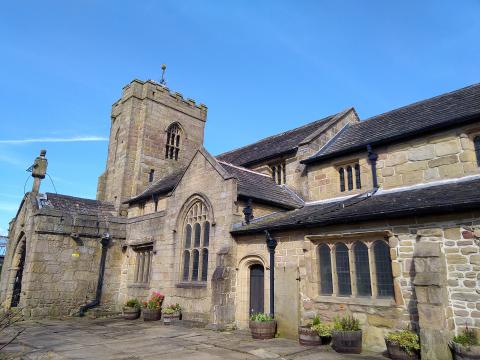 On the wall of the north chapel of Colne Parish Church is a set of oaken boards with carved, Latin letters. They probably date to 1508 and read:
Qualibus in caelo precibus succerrere mundo Hac recitare via debes laetate Maria Larvas interitu diluit illa many Hyrd genetrix Christi Wilhelmum deprecor audi Ne superer mors me virgo parens retine
Which is loosely translated as follows:
O Mary, Mother of Christ! I earnestly entreat Thee to succour and aid the World by the recital of such prayers in Heaven as gladden the heart and banish all spectral illusions in the hour of death and that William Hyrd may find favour with Thee And, O Virgin Mother! I beseech Thee to have me in Thy Holy keeping, lest the powers of death prevail against me
Master Hyrd was no doubt one of the chantry priests, who thought that sending memos to Mary would somehow assist him when his clogs popped. Mary, herself a saved sinner, was before Christ's throne, worshipping her Saviour. She had neither inclination nor ability to respond to this request. If only Hyrd and appealed to Jesus directly, the great intercessor and mediator between men and God. Only He could have banished his spectral illusions, something these prayer boards only embellished and exacerbated. If you fear death and dying, look to Jesus Christ, the One who walked away from the tomb having once lain within it. 
Looking unto Jesus, the author and finisher of our faith, who for the joy that was set before Him endured the cross, despising the shame, and has sat down at the right hand of the throne of God. Hebrews 12:2