Not My King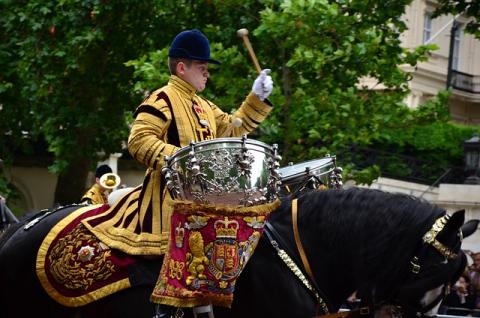 Supporters of the British monarchy have often assured us that the institution binds us together, providing an impartial national figurehead around which all may freely rally, regardless of political persuasion. The late Queen's death does seem to have achieved this, with people of all ethnicities, social groups and party loyalties mourning her loss and wishing well her heir.
Of course, not everyone is delighted by this 24/7 royal news-fest with its endless coverage, but even natural republicans acknowledge Elizabeth's lengthy tenure and personal qualities. A few foreign humbugs have brazenly celebrated her death, like Argentinian TV host Santiago Cúneo, who popped open a bottle of champagne, in light of his nation's 40-year-ago failed invasion of Her Majesty's Falkland Islands. Or there is the odious professor of 'Applied Linguistics' at America's Carnegie Mellon University, Uju Anya, who celebrated the royal death by wishing the 96-year-old an 'excruciating end'. Anya has such a big chip on her shoulder it clearly prevents her from being able to function as a regular human being. Closer to home, there are plenty of British republicans, some of whom were pleased to protest at our King's unelected status and held placards stating 'Not My King'. The police have been criticised for arresting some of them, one before his placard was even written. It seems a tad ironic that such august journals as The Guardian are bewailing these infringements of our freedom of expression, when their previous promotion of cancel culture for the past five years has successfully gagged non-woke speakers and writers from universities and public squares. Suddenly, freedom of opinion is vital in our democracy, now it is used to object to His Majesty.
Despite being a monarchist and a loyal subject of the Crown, I too defend the right of folk to object to monarchy. Our King is no Arab emir or sultan with his secret police and underground interrogation centres where the regime's enemies -real or imagined- are taken to get beaten up, re-educated, or worse. Our monarch reigns by consent. Sneering left-wing liberals may of course despair of the working class's admiration for their betters, but they have to concede that the majority of people seem quite happy with an unelected, non-political figure head. So let republicans make their case. Let them persuade us that a President Boris or a President Blair would be far preferable to a Charles III. And let them object this week, if it makes them feel better. One thing I would say though: until we have that referendum to scrap the institution, Charles III is your King whether you approve or not. We Christians are too familiar with a world in which all and sundry hold aloft posters refusing Christ's Kingship, either because they want to be their own petty chieftain, or they bow the knee to some other prince. Yet Christ is King of kings whether those kings acknowledge Him or not. He is Lord of Putin, King over Kim Jong-Un, President of Biden and Emperor of Naruhito. Furthermore, He is your King, too. Will you bow the knee to Him, or will you insist on holding up that petty, hand-written opt-out, with no legal, moral or actual basis in eternal reality?
Now therefore, be wise, O kings;
Be instructed, you judges of the earth.
Serve the Lord with fear,
And rejoice with trembling.
Kiss the Son, lest He be angry,
And you perish in the way,
When His wrath is kindled but a little.
Blessed are all those who put their trust in Him. Ps 2:10-12, NKJV
Image by LoneWombatMedia from Pixabay