Old Silent Inn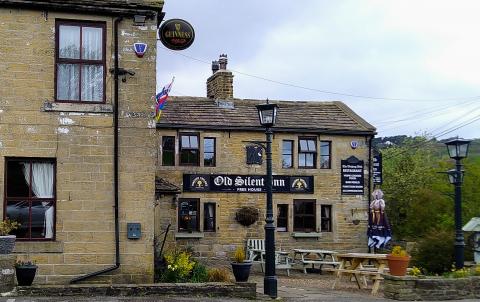 On a foray into Yorkshire last week, I came across the Old Silent Inn on the moors of Keighley, not far from Howarth. I was curious about its name; most alehouses are famed for their boozy, raucous dins, not peaceful silences. My Dictionary of Pub Names yielded nothing, but the pub's own website offers explanation. It claims that the inn was once called The Eagle, which is plausible on those hills, and that the Young Pretender stayed the night, fleeing from King George's troops in 1745. The locals duly kept his identify secret from the government, enabling him to return to Scotland, famously going over the sea to Sky. This young man, otherwise known as Bonnie Prince Charlie, I have written about previously. I care little for him and his accursed family, and wonder if the locals might have done us all a favour by being a little less silent and more forthcoming. Then again, he would have paid for it with his life, the rest of which he spent harmlessly enough, whoring and drinking through Europe.
Sometimes we do not know when to speak out and when to say nothing. Solomon famously asserts, in Ecclesiastes 3, that there is
A time to keep silence,
And a time to speak;
-having declared:
To everything there is a season,
A time for every purpose under heaven.
Wrong-doers are to be rebuked, but sometimes we are to bear their folly with patience and long-suffering. We are to take all opportunities to share the gospel, yet sometimes it pays to listen rather than to speak. May God give us the wisdom to know when we should do each.