Old Smuggler
Believed to have been built in 1401, the Old Smuggler's Cafe, was once known as Old Ship Launch Inn. In the eighteenth-century, when the government required more cash to fight the French and to defend a threatened but growing empire, excise and customs duty was charged on imported goods, such as wine. This created a lucrative profit for those willing to run the risk of smuggling such contraband into the country without paying King George his dues. This sweet-looking medieval inn was likely such a gathering point for the untaxed wines and liquors from abroad.
Ironically, a low level of import or sales tax will likely garner more revenue, as it is puts the smugglers out of business. Nevertheless, there are 52 counties around the world in which Bible study is a crime. Those who take Bibles behind such borders carry cargo more precious than anything this old inn received at Whitby; though the financial rewards are non-existent, they truly smuggle treasure to the impoverished.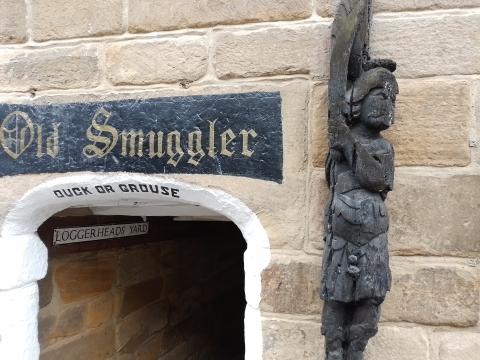 "Look to Me, and be saved,
All you ends of the earth!
For I am God, and there is no other.
I have sworn by Myself;
The word has gone out of My mouth in righteousness,
And shall not return,
That to Me every knee shall bow,
Every tongue shall take an oath.
He shall say,
'Surely in the 

Lord

 I have righteousness and strength.
To Him men shall come,
And all shall be ashamed
Who are incensed against Him.
-Isaiah 45:22-24, New King James Version