One Canynges, Two Tombs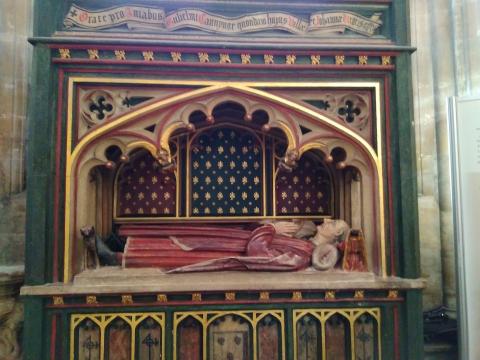 Here is a tomb of a great man, William Canynges the Younger (1399-1474), at the church of St Mary Redcliffe, Bristol. By 1461, this businessman had a fleet of nine ships totalling 2,853 tons and crewed by 800 sailors, making him the wealthiest merchant in England. Canynges' extraordinary career led him to become an MP, and five times Mayor of Bristol. Here on his grand tomb, he is sculpted in the scarlet, velvet robes of the mayoralty. Yet when his wife, Joan, died before him, he was thrown into a crisis. After she died in 1467, he applied to become a priest, saying mass here at the church in 1468. Next to the grand tomb of the Right Worshipful Merchant and his wife is the alabaster tomb of a priest wearing vestments and tonsure. So bizarrely, he has two tombs, both depicting those different roles he played. Much of his vast wealth was spent in rebuilding and improving this church, which, as Elizabeth I famously pointed out, is one of the finest in England.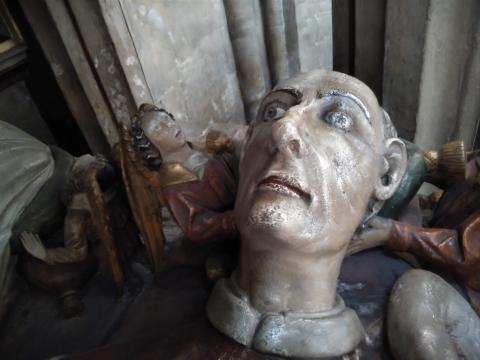 Canynges the Merchant
I have reservations about the integrity of anyone who becomes a Roman priest, with their masses and idolatrous saint-worship. Still, his options were limited before the Reformation, and even in the medieval Church's plague of thick darkness there were Israelites with lamps. Master Canynges, having acquired vast wealth and power, realised how vacant and worthless an honour it was. The last six years of his life were spent in worship and service of others, and he died a clergyman.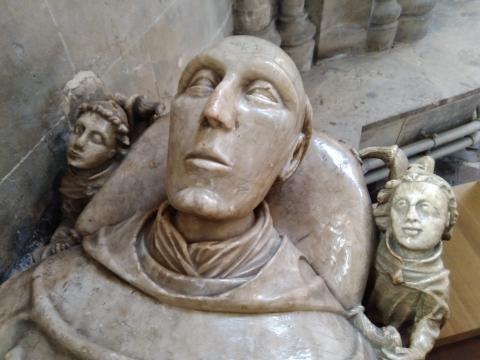 Canynges the Cleric
As John Wesley, another parson with strong connections to Bristol, said:
In seeking happiness from riches, you are only striving to drink out of empty cups. And let them be painted and gilded ever so finely, they are empty still. (1781)