Oxford's Slow Bishop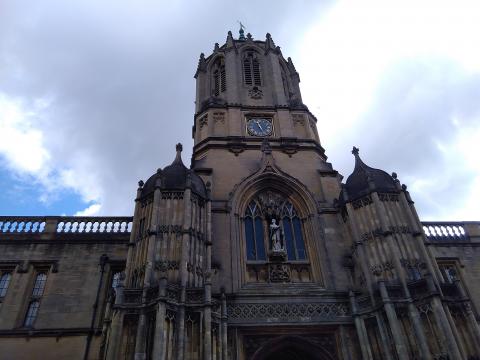 Quick, get me a chair! I have just been stunned by recent news. I need to retrieve my breath before I die of shock. Some Anglican bishops are calling for their Church to allow same-sex weddings. None of us saw it coming! The Right Reverend Steven Croft, Bishop of Oxford, has decided to publish an essay in which he calls for the Church's historical commitment to heterosexual marriage (or just 'marriage' as we used to call it in simpler times) to alter. He wanted to acknowledge the 'acute pain and distress of LGBTQ+ people in the life of the Church'. Various other high-ranking prelates, such as Croft's colleagues of Worcester, Dr John Inge, and his suffragan, the Bishop of Dudley, Martin Gorick, have followed his brave lead.
The good bishop said he was sorry that the church has been 'so slow' to 'reach better decisions and practice on these matters' and apologised for his own views being 'slow to change…I need to acknowledge, right at the beginning of this essay, the acute pain and distress of LGBTQ+ people in the life of the Church…I am sorry that, corporately, we have been so slow as a Church to reach better decisions and practice on these matters…I am sorry that my own views were slow to change and that my actions, and lack of action, have caused genuine hurt, disagreement and pain. I remain on a very steep learning curve."
So we have a liberal bishop apologising for previously supporting historic, orthodox Christian practice, as well as some brave fellow liberals coming out to support him. Latter-day Martin Luthers they are, courageously nailing their protests to the church door, standing by their consciences, opposing a Conservative establishment, come what may. Yet they are the establishment. Anglicanism has been dominated by pallid liberalism for the last half century, its most liberal clergy disproportionately enjoying the emoluments of episcopal office. I know of four male vicars in Lancashire who are living with their same-sex partners without any apparent interference from the respective diocesan authorities. Homosexual couples among the clergy and laity are already tolerated and informally endorsed; Bishop Croft is merely seeking to ratify them, to offer official, church-based recognition and celebration. In the citations above, note how Croft talks about responding to pain and being too slow to change. When one's faith is based on God's word, the fundamentals will never change. The gospel, and God's righteous demands that underpin it, are often unpopular, 'offensive' and inconvenient. It is for the world and its unbelieving inhabitants to repent and conform to God's truth, not the Church's job to repent of God's truth and conform to the world.
If this slow bishop is on a 'steep learning curve' (his phrase), one wonders what he is learning? What or who is providing his curriculum, correcting his mistakes, rewarding his educational progress? Being schooled in secular wisdom and graduating in worldly conformity is incompatible with scriptural faithfulness. In twenty years' time, he may well write a second essay, this time supporting three-ways marriages, or matrimony to blow-up dolls. Such current prohibitions cause much pain, and further steep learning curves will, doubtless, be overcome with sufficient degrees of determination.
Psalm 119 (New King James Version)
א ALEPH: Meditations on the Excellencies of the Word of God
Blessed are the undefiled in the way,
Who walk in the law of the Lord!
Blessed are those who keep His testimonies,
Who seek Him with the whole heart!
They also do no iniquity;
They walk in His ways.
You have commanded us
To keep Your precepts diligently.
Oh, that my ways were directed
To keep Your statutes!
Then I would not be ashamed,
When I look into all Your commandments.
I will praise You with uprightness of heart,
When I learn Your righteous judgments.
I will keep Your statutes;
Oh, do not forsake me utterly!