Peacocks & Peagods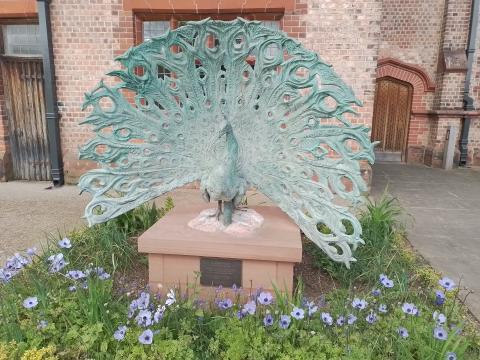 I saw several peacocks last month. Several at Castle Howard (North Yorks), which were live and noisy, and one at Ordsall Hall (Greater Manchester) which was a statue. In one respect, the latter was better. It had its tail feathers on permanent, full display, while kindly posing for closer inspection. It leaves no mess, and requires no special food. An impressive bird he was, too. The ones at Castle Howard, below, however, were better because they were actually alive. Their colours reflected the sunshine and their movements were fascinating. I could only see them from a  distance, but they were altogether lovelier than their colleague of Ordsall.
Reproduction gods might be interesting, tame, biddable, and neat, but there is no God like the Living God! His ways are beyond understanding, His beauty beyond comprehension, His wisdom beyond scrutiny.
"Lord God of Israel, there is no God in heaven above or on earth below like You, who keep Your covenant and mercy with Your servants who walk before You with all their hearts." 1 Kings 8:23
O Lord, there is none like You, nor is there any God besides You, according to all that we have heard with our ears. 1 Chronicles 17:20
But the Lord is the true God; He is the living God and the everlasting King. At His wrath the earth will tremble, And the nations will not be able to endure His indignation. Jeremiah 10:10, all NKJV.