Pentaglottis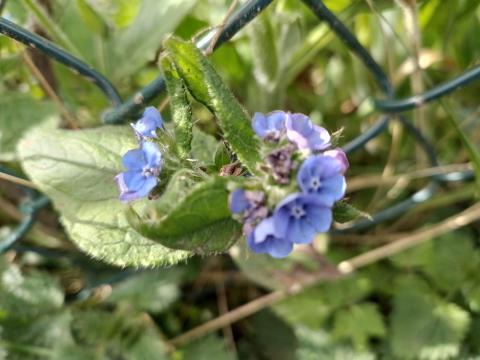 This Pentaglottis I saw growing through one of those old fashioned, Council fences in Flintshire. Though often called Alkonet, its Greek name means 'five tongues', a reference to its petals. Yet what small petals they are! The tongue is small, but what damage it can inflict, as James points out in chapter three of his epistle. Sometimes I wish that I, and others, had no tongue, or a smaller one that could inflict less damage. Charles Wesley, on the other hand, wished for an additional 999, that he might better sing his great Redeemer's praise. When considering its use for evil, act as though you had no tongue; when praising God and blessing His folk, speak as though you had a thousand. Those who only bless others and praise God more find themselves five fold blessed.
O for a thousand tongues to sing
my great Redeemer's praise;
the glories of my God and King,
the triumphs of his grace!
My gracious Master and my God,
assist me to proclaim;
to spread thro' all the earth abroad
the honors of your name.