Pillars of Scarborough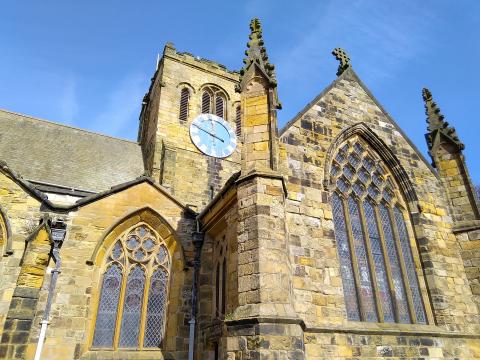 I called at St Mary's, Scarborough, last month. This is the ancient parish church for that venerable coastal town, in the shadow of the ancient clifftop fortress. Sadly, the church has still not opened to the public after the late health scares, but a couple of friendly retirees who were tending the borders took pity on this forlorn trans-Pennine visitor and allowed me a brief tour. The church within certainly had a feel of antiquity but was much rebuilt after the civil wars and the Victorians' attempts to modernise. Nevertheless, some ancient mysteries remain. On the south aisle, for instance, three of the pillars do not match all the others in the church.
From 23 March 1208 to 2 July 1214, England was placed under a 'papal interdict'. Pope Innocent III and King John had fallen out over the matter of selecting the next Archbishop of Canterbury. Masses, burials in church yards and public baptisms were all prohibited, moves unlikely to impress the superstitious, medieval Catholic. A historian connected to St Mary's suggests that ecclesiastic building programmes were also halted, a clause of the interdict I have not been able to verify. The church was therefore left incomplete until such time as the building could recommence. When this occurred, a handful of pillars from elsewhere had been procured which, being more graceful than the existing ones, were incorporated into the structure. Hence, St Mary's Church has three pillars that simply do not match.
I have little sympathy for Innocent III, the papal antichrist, nor King John, who defied him, not for reasons of theology, but selfishness and misrule. The two can entertain each other in the same eternal pit for all I care. Yet the building of St Mary's is not without application. For the delay, the church was made that little more elaborate and quirkier. Often, God delays a work's completion because something better will be done. The honest folk of Scarborough were treated to a more interesting church on account of two devils; how much more when our lives are ordered by an intelligent and wise God, whose schedules and timetables are inscrutable but always perfect?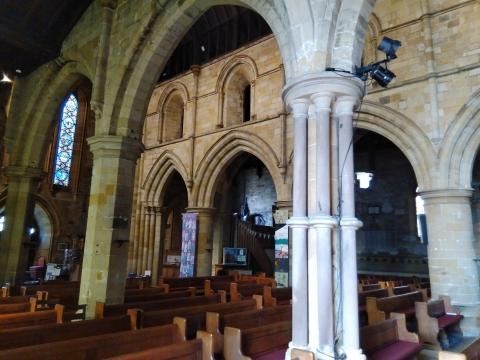 A man's heart plans his way,
But the Lord directs his steps.