The Queen's Head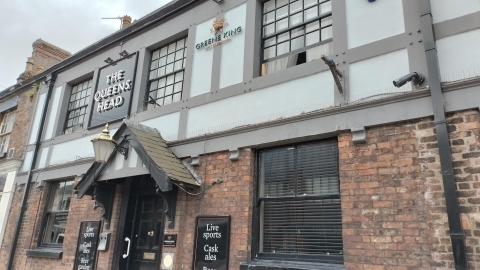 Upon a recent visit to the Lancashire town of Ormskirk, I was pleased to see that the Queen's Head public house was now bearing an image of Her late Majesty. During her lifetime, use of this picture would have been contrary to an Act of Parliament, which states:
Trade Marks containing representations of Her Majesty, or any member of the Royal
Family or royal Residences are open to objection under section 3(5) of the Trade Mark
Act 1994 unless the consent of The Queen or the relevant member of the Royal Family
is provided.
Upon our former monarch's death, pubs around the country were permitted to erect images of her person. As so few new pubs now go by that name, and existing ones employ Queens Victoria, Alexandra, Mary or Anne, I suspect that the Ormskirk hostelry hitherto mentioned will prove exceptional. Although some would say that the hasty erection of such signs is in bad taste, I cannot agree. If an Englishman cannot enjoy his pint of bitter under a beloved, former monarch's benevolent gaze, then it is a sorry state in which we live. I loved our old queen, and her heir and successor will do well to reach her level of popularity and wisdom.
We Christians are slowly (sometimes too slowly) being re-made into the image of Jesus Christ:
For whom He foreknew, He also predestined to be conformed to the image of His Son, that He might be the firstborn among many brethren. Romans 8:29, New King James Version
Adam was an exact representation of Him before the Fall; at our conversions, the Holy Spirit begins the laborious and painful task of removing fallen Adam's likeness and remodelling us on Christ. Yet for that work to begin and to succeed, the beautiful King had first to die. Only upon His death could His likeness be seen again among the children of men. One day, the queen whose head is shown over the Ormskirk pub shall rise again, but only because the King whom she served rose first. The image of Christ in our lives does not portray a former monarch or a dead king, but the very Author of life, the source of all vitality and motion.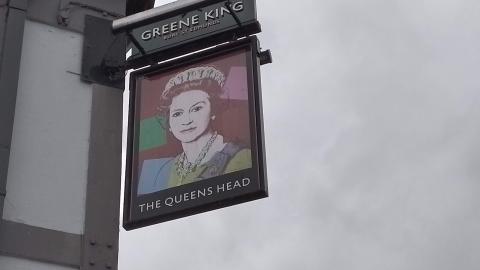 So God created man in His own image; in the image of God He created him; male and female He created them. Genesis 1:27, NKJV