Rauffe Radcliffe: The Written Stone of Longridge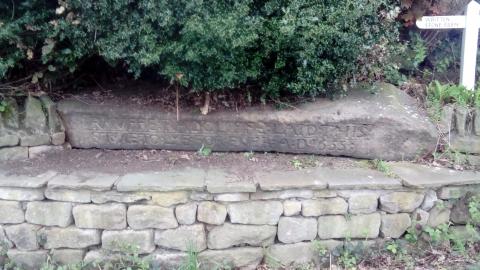 This week, I went to visit a mysterious stone. Not far from Knowle Green Chapel, before reaching Longridge, is the 'Written Stone'. It's a large slab, eight feet by two, positioned at the entrance to a farm. Inscribed upon it are the words
RAUFFE: RADCLIFFE: LAID: THIS: STONE: TO: LYE: FOREVER: A:D: 1655: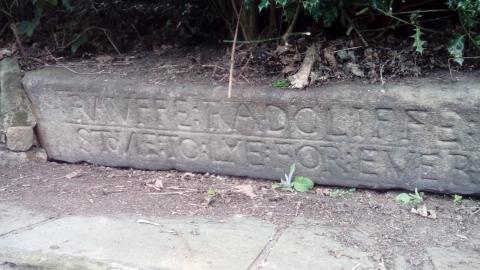 Kai Roberts' 2011 Blog The Cry of the Sedge (www.cryofthesedge.wordpress.com) goes through the various explanations proffered through the ages, including tales of boggarts (Written Stone Lane, part of the Roman Road to Lancaster, whereon the stone is erected, is locally called Boggart's Lane), murders and ley lines. Interestingly, she cites Janet and Colin Bord (The Secret County, 1976) who suggest it was an ancient standing stone, such as Iron and Bronze Age folk were wont to erect.
Perhaps Rauffe was of the puritan persuasion and decided to knock down and claim this large relic of paganism. By 'adopting' and 'Christianising' it, he was cleansing his land and denying the old gods their power. The emphasis might be on the words 'laid' and 'lye'; he certainly wished it to be horizontal rather than vertical. There may be good practical reasons for this, or it may affirm his wish that this 'standing stone' should stand no more. Puritans vandalised market crosses and maypoles in the same manner, perhaps supposing them to be modern recreations of the biblical asherah poles.
Tom Smith (History of Longridge, 1888) notes the number of Radcliffe burials in the 1654-5 Ribchester parish registers. Having experienced several deaths, each a reminder of life's transitory nature, Rauffe wished to secure for himself a lasting memorial. He had survived the years of civil war and may have witnessed Cromwell's huge parliamentary army passing by his lane only eight years before on its way to Preston. Seeing so many die away from home perhaps made him grateful for his life and settled existence.
We'll never know. I doubt his stone will lie there forever, but nearly 400 years later, we're still discussing the man. If he wished to be made famous, his wish was granted.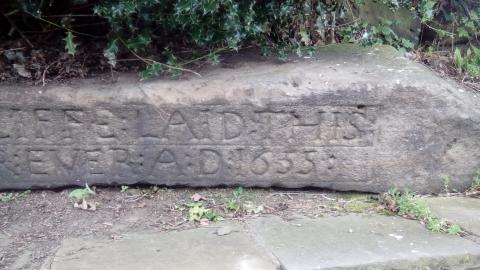 It would seem that the stone mason was a real fan of colons.