Read on the Inside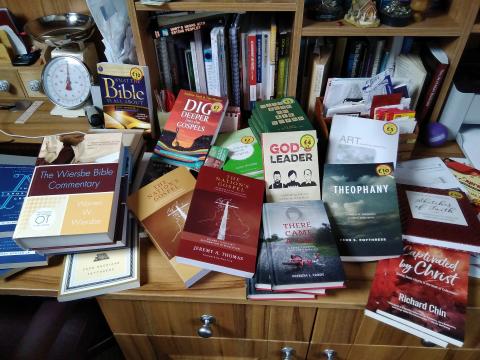 Sometimes, the laziest pupils at school are the keenest to buy revision guides or copies of textbooks. When they seek advice about which to buy, I suggest they keep their money but work harder. They do not like to hear this; buying the books and having them on a shelf at home makes them feel better. They might never open them, much less learn the contents, but possessing them makes them feel like they've prepared for the exam. Returning from Word Alive, I carried home three bags of new books. Some, admittedly, were for our chapel reading group, but most were for me. Commentaries, biographies, histories- all good stuff. But shall I read them? I still have unread books from the last conference. I fear that, like an idle 17-year-old, just possessing them makes me feel wise. I know people with endless rows of commentaries and theological tomes which tempt me to envy- but their faith is so paltry and lukewarm I wonder if the endless spines, neatly arranged, are just painted onto a canvas glued to the wall. I once remember a godly old man telling me a joke, something for which he was not known. In writing, its pun will be entirely wasted:
What colour should a Bible be?
Answer: Black on the outside and red on the inside.
Sage advice.