A Refreshing Glass of Triethanolamine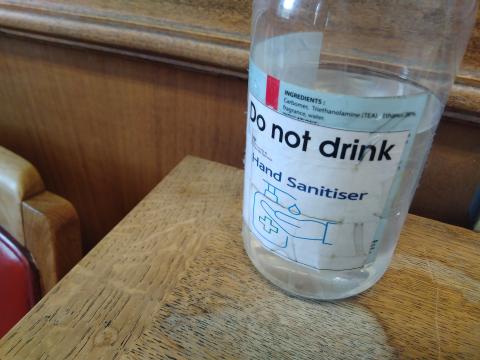 I asked why bottles of hand sanitiser were labelled with warnings dissuading people from quaffing them at a place at which I volunteer. I was told that in one of our establishments about the country, three colleagues had poured the contents into glasses and began to drink. A part of me thinks they got everything they deserve; if one will drink from random bottles of liquid, one can expect a dickie tummy at some point. So for their stupidity, someone is now tasked with labelling the bottles in this way.
It is easier to smile at others' mistakes than prevent our own. Carbomer, triethanolamine, ethanol and fragrance make a poor beverage, but so many in the world today drink from poisoned springs, stagnant pools and polluted streams rather than coming to Him who is the Water of Life.
"...but whoever drinks of the water that I shall give him will never thirst. But the water that I shall give him will become in him a fountain of water springing up into everlasting life." John 4:14