Remain Blessed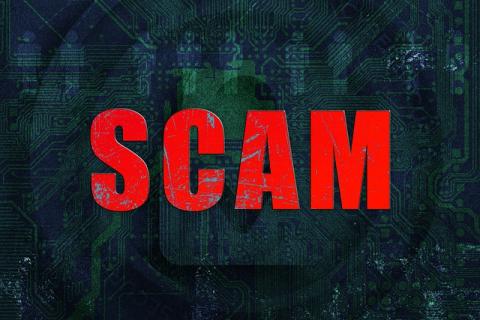 Another little treat entered my inbox this month:
From Ms. Barbara Oberleitner
Austria House Building,
European Quarters, Ikoyi
Lagos, Nigeria.
Greetings to you,
May the peace of God be with you and your family. I am Mrs. Barbara
Oberleitner, a widow from Grieskirchen Austria, I am 43 years old. I'm
married to Dr. Gunter Oberleitner who worked with Austrian Embassy in
Republic of Nigeria for Thirteen years before he died in the year 2014.
We were married for fifteen years without a child, When my late husband was
alive he deposited the sum of USD 5,300.000.00.  (Five Million, Three
Hundred Thousand United States Dollars Only) in a bank in Republic of
Nigeria. Presently this money is still in bank.
Sounds legit, right? Dr Oberleitner was clearly a man who liked to save for a rainy day. I guess the Austrian government generously remunerates its officials abroad.
Recently my doctor told me that I would not last for the next Six months
due to cancer problem.,The one that disturbs me most is my stroke sickness,
Oh dear! 'Cancer problem' and 'stroke sickness'! This poor woman; how she suffers.
Having known my condition I decided to WILL/Donate this fund to you on
charity purpose , I want you to utilize this money the way I am going to
instruct herein, I want you to use this money to fund LESS-PRIVILEGES
,orphanages, schools,disabled People, and widows propagating the word Of
God and to ensure that the house of God is maintained.
What a godly lady. 'Tis a pity this thought never occurred to her during her previous eight years of health enjoyed when she was first widowed. It is also odd that, living in Nigeria, she could not find sufficient poverty, disability, orphanages and schools to assist with that vast fortune. I guess she would rather that money was sent to Britain, instead. Can't argue with that!
The Bible made us to understand that blessed is the hand that giveth. I took this decision
because I don't have any child that will inherit this money.
Ah, she is inspired by the Bible. How reassuring. It's a pity she never read Leviticus 19:36.
Presently, I'm in an American hospital here in Republic of Nigeria, where I
have been taking treatment for this sickness. As soon as I receive your
reply and confirm your acceptance to work as I instruct herein., I shall
give you all the relevant information that will authorize the transfer of
the total sum of USD 5,300.000.00 to you on charity's purposes.
30% of the fund is for you and your family, if you will accept to do this
humanitarian work.
Golly gosh, thirty per cent for me? Well obviously, yes, there are overheads involved, and costs are certain to accrue, so yes, I suppose 30 to me and 70 to the orphans is perfectly reasonable.
You will promised me that you will not disappoint me
when the fund will be transferred to your bank account there in your
country, and you will also assured me that you will use 70% of the money
for the said purpose.
We certainly will not disappoint Mrs Oberleitner when she has been so generous, will we?
Email me back immediately for further details.
Remain Blessed
Yours Faithfully,
Ms. Barbara Oberleitner
'Remain blessed'. If one wishes to retain blessing, the last thing one ought to do is email this crook with one's details. This attempt was so lame, it was not hard to spot. If someone offers you money for nothing in return, do not believe it. Only the Lord Jesus gives riches for nothing, and they are in the currency of the next world, not this. Beware of dying widows in Nigerian hospitals with money to spare. Remain blessed. 
Image by Jonathan Hammond from Pixabay